12 February 2014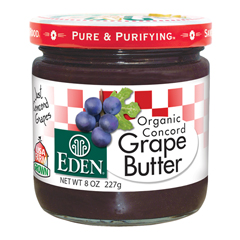 Clinton, Michigan - North America's eminent natural foods company introduces an organic Concord Grape Butter. It is a collaborative fruit from twenty plus year organic vineyards on the shore of New York's Keuka Finger Lake. EDEN Grape Butter contains just one ingredient in its 8 ounce glass jar, delicious organic Concord grapes kettle cooked into a sweet 45 Brix fruit butter.
New York's eleven Finger Lakes are nestled in rich soil and a microclimate ideal for growing Concord grapes. Hot summers, cool nights, abundant water, and gently sloped hillsides produce the tastiest purple grapes we have yet to discover.
Fresh from the vine, whole grapes are deseeded, crushed, flash frozen, and moved to Eden Foods' fruit processing facility. Thawed, the crushed grapes are steam jacket cooked to a thick purée, and then slow kettle simmered to the desired finish. EDEN Grape Butter is thick, rich, spreadable Concord grape with ambrosial aroma. It is superb grape butter, unlike any other available today.
Organic EDEN Grape Butter is the fourth addition to Eden's 100% fruit butter line. It joins organic Apple Butter, organic Apple Cherry Butter, and organic Tart Cherry Butter. All four are made without any of the long list of chemicals and refined sugars ubiquitously present in today's processed fruit. EDEN Grape Butter is wonderfully nourishing and loaded with antioxidants, packaged in BPA free glass.
---
Eden Foods is a 46 year, independent, principled natural food manufacturer offering more than 400 authentic, organic, traditional, pure foods. All are superb pantry fare. Information and over 1,100 free recipes are at
www.edenfoods.com
. We ask retailers, institutions, and co-ops to please visit us at
access.edenfoods.com
.