15 August 2013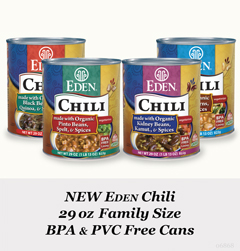 Clinton, Michigan - Eden Foods introduces its four superlative whole grain and bean meatless chilies in NEW larger size, 29 ounce custom made bisphenol-A (BPA) free cans. These award winning chilies are made of local organic family farm beans with whole grain organic quinoa, spelt, kamut, or barley. EDEN shiitake and maitake gourmet mushrooms offer added flavor, texture, and chili value. EDEN 100% organic vegetables and 100% organic spices set up the rich, savory sauce in these wonderfully satisfying, most delicious chilies.
- EDEN Black Bean & Quinoa Chili - Organic Michigan black turtle beans and organic Andean high altitude (12,000'+) whole grain quinoa with maitake and shiitake mushrooms. Rich in protein, fiber, iron, folate B9, magnesium, and 45% DV (daily value) zinc. Gluten Free
- EDEN Great Northern Bean & Barley Chili - U.S.A. family farm organic great northern beans and organic partially pearled barley with maitake mushrooms in a hearty chili sauce. Rich in fiber, magnesium, and 35% DV zinc.
- EDEN Kidney Bean & Kamut Chili - Organic dark red kidney beans and whole grain Khorasan wheat aka kamut, all from local family farmers we know and trust. Rich in protein, fiber, iron, riboflavin B2 niacin B3, magnesium, and 40% DV zinc.
- EDEN Pinto Bean & Spelt Chili - Michigan family farm organic pinto beans and organic spelt wheat that St. Hildegarde said "...makes the spirit light and cheerful." Rich in protein, fiber, iron, magnesium, and 35% DV zinc.
Larger size EDEN Chilies offer complete protein and fiber from whole grain and bean, contain 50% less sodium than other brands, and are

. EDEN Chilies are thoroughly cooked for quick, pleasing, healthy meals in minutes. From Eden's dedication to family farm organic ingredients and avoiding all adulterants such as bisphenol-A (BPA) in cans, Eden Foods is the natural foods industry's long-standing leader in providing pure and purifying, wholesome food.
---
Eden Foods is a 45 year, independent, principled natural food manufacturer offering more than 300 authentic, organic, traditional, pure foods. All are superb pantry fare. Information and over 1,100 free recipes are at
www.edenfoods.com
. We ask retailers, institutions, and co-ops to please visit us at
access.edenfoods.com
.