4 April 2013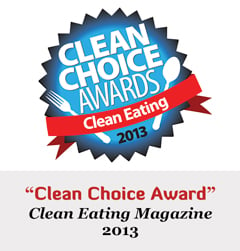 Clinton, Michigan - Organic Unsweetened EDENSOY and Organic EDEN Crushed Tomatoes were selected by Clean Eating magazine as 2013 "Clean Choice Award" recipients, as announced in the April 2013 issue. Unsweetened EDENSOY was named "Purest Soy Milk" in the 'Dairy & Dairy-Free Alternatives' category and EDEN Crushed Tomatoes in 'Pantry Staples'. Foods were rated for taste, texture, nutritional profile, convenience factor, and environmental friendliness.
Clean Eating said of EDENSOY, "Made simply from organic, non-GMO soybeans and purified water, this unsweetened, high-protein soy milk is as pure as it gets - plus, it's packed with important essential fatty acids." Of EDEN Tomatoes they said, "We know you're an ambitious bunch of DIYers, but sometimes canning your own tomatoes just isn't possible. The next best thing, these scrumptious jarred tomatoes packed in amber glass to protect your lycopene-packed tomatoes from light damage."
Unsweetened EDENSOY is skillfully made from U.S.A. family organic soybeans and purified water with nothing else added. EDENSOY ranked number one of sixty-two brands in an extensively researched soy food report prepared by the independent research and advocacy group, Cornucopia Institute. See it at www.cornucopia.org/soy
EDEN Crushed Tomatoes are the only tomatoes in the U.S.A. packed in amber glass, protecting flavor and nutrients from light damage. The driving force at Eden for amber glass jars of tomatoes was the avoidance of bisphenol-A (BPA) in canned tomatoes.

pareve. Pure and Purifying.
---
Eden Foods is a 45 year, independent, principled natural food manufacturer offering more than 300 authentic, organic, traditional, pure foods. All are superb pantry fare. Information and over 1,100 free recipes are at
www.edenfoods.com
. We ask retailers, institutions, and co-ops to please visit us at
access.edenfoods.com
.