16 November 2011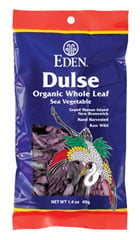 Clinton, Michigan - North America's senior natural foods company announces Organic Eden Whole Leaf Dulse, an exceptionally soft crimson sea vegetable with a delicious tangy flavor. This addition to its line of quality sea vegetables, world renown for their purity, is the finest example of culinary dulse in the world.
Eden Dulse Palmaria palmate is wild hand-harvested near the mouth of the Bay of Fundy just off the picturesque island of Grand Manan, New Brunswick. This island is famous for dulse due to a unique growing environment. High cliffs on the west side shade the dulse beds from early sunlight. This results in the highest quality dulse. This Dark Harbour dulse is thicker, darker, and richer in flavor than dulse grown anywhere else. The cold North Atlantic, morning shade, and vigorous tidal flow nurturing creates ideal growing conditions for it.
Eden Dulse is certified organic and sustainably hand harvested. Dulsers travel to the island in dories and harvest at low tide. The fronds are spread over nets held up by large flat stones on the beach to dry. Summer sun and steady sea breeze do their job in about a day and a half, reducing moisture to 12 to 15 percent. Biologists manage the resources and oversee the hand-harvesting to ensure minimal upset to near-shore ecology, and a sustainable yield.
Use Eden Whole Leaf Dulse in salad, soup, stew and chowder, on sandwiches, in stir-fries, dips, hot porridge, and in baked goods. It is a refreshing and nutritious snack food right out of the package. Oven toast it for a crisp, pleasing nutritious snack.
---
Eden Foods is a principled 43 year independent manufacturer of natural food offering more than 250 authentic, organic, traditional,

, Pure foods. All are superb pantry fare. Information and over 1,000 free recipes are at
www.edenfoods.com
. Retailers, institutions, and co-ops, please visit us at
access.edenfoods.com
.