15 November 2011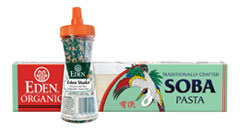 Clinton, Michigan - Organic Eden Soba noodles received a first place Readers' Faves Foodie Award for 2011 in Vegetarian Times' Noodles & Pasta category. Readers voted selecting a favorite in 26 categories. Eden Shake was a runner-up in Condiments. The announcements are in October Vegetarian Times magazine and at vegetariantimes.com.
"No time to scour natural-food stores and supermarkets for the very best buys? No worries... don't forget to stow these pages in your shopping cart the next time you restock your kitchen," says VT of their 'ultimate shopping guide.' In the Noodles & Pasta category, organic Eden Soba was the winning Readers' Fave. "The traditional Japanese noodle adds buckwheat-y flavor to soups and stir-fries," they said.
Eden Soba noodles are simply North American family organic spring wheat 70% and organic whole buckwheat 30%, with a touch of Eden Sea Salt. It is a warming, strengthening food from Eden's Sobaya Company of Montréal, Canada, an excellent source of thiamin B1, low in sodium while providing protein, iron, niacin B3, magnesium, and zinc. They are thoroughly satisfying in dashi kombu/shoyu noodle broth, stir-fries, salads, soups, noodle sushi, or with your favorite sauce.

pareve.
Of Eden Shake VT says, "One shake of this seaweedy seasoning delivers instant umami." Eden Shake aka furikake is a sesame seed/sea vegetable sprinkle traditionally made in Japan of roasted black and tan sesame, green nori flakes, and pickled red shiso (beefsteak) leaves. It's a time-tested favorite and a very fun way to enjoy the benefits of sesame, shiso, and nori sea vegetable; very low sodium with just 25mg/serving and it has an easy dispenser cap. It's a versatile table condiment, a more flavorful replacement of table salt when sprinkled on whole grain, noodles, baked potatoes, salads, vegetables, pizza, and organic Eden Popcorn. It's an excellent flourish on grilled food and California sushi rolls, and makes vinaigrettes and marinades richer.
---
Eden Foods is a principled 43 year independent manufacturer of natural food offering more than 250 authentic, organic, traditional,

, Pure foods. All are superb pantry fare. Information and over 1,000 free recipes are at
www.edenfoods.com
. Retailers, institutions, and co-ops, please visit us at
access.edenfoods.com
.