2 November 2011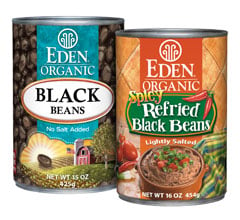 Clinton, Michigan - Eden Black Beans and Eden Spicy Refried Black Beans were both selected by Men's Health magazine as one of "The 125 Best Foods for Men" in their November 2011 issue. This is the sixth time Eden brand food has been similarly honored by Men's Health.
Eden Black Beans were deemed the "Best Canned Bean" and Eden Spicy Refried Black Beans were chosen the "Best Refried Bean". Men's Health compared hundreds of foods' nutritional characteristics. From a pared down selection, they then taste tested them. These efforts aim to help their readers reinvent their diet and stock kitchens with delicious, good for you foods.
Men's Health said of their 'Best Foods for Men' selections, "Here's your ultimate shopping list, one filled with great-tasting foods that can fight fat, build muscle, and boost your health." More than 1,000 foods were analyzed and awarded points for being low in calories and high in protein and fiber, and made with whole ingredients.
Eden Black Beans and Spicy Refried Black Beans are U.S.A. family farm organically grown. They are low fat with no fat added, rich in healthy fiber, and a good source of protein, iron, and magnesium. Eden Black Beans are low sodium with no salt added. Eden Spicy Refried Black Beans have half the sodium of other brands with zero additives or preservatives. Eden brand beans are the only canned bean using bisphenol-A (BPA) free lined cans.

pareve. Pure and Purifying.
---
Eden Foods is a principled 43 year independent manufacturer of natural food offering more than 250 authentic, organic, traditional,

, Pure foods. All are superb pantry fare. Information and over 1,000 free recipes are at
www.edenfoods.com
. Retailers, institutions, and co-ops, please visit us at
access.edenfoods.com
.