4 May 2011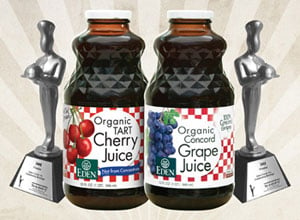 Clinton, Michigan - Organic Concord Eden Grape Juice joins Organic Montmorency Tart Eden Cherry Juice as the Best of the Best says National Association for the Specialty Food Trade (NASFT).
Organic Concord Eden Grape Juice received an 'Outstanding Cold Beverage' sofi™ Award from the NASFT. Sofi Awards, Specialty Outstanding Food Innovation, are the highest, most coveted honor in the specialty food and beverage industry. "The competition was intense, with a record 1,657 entries across 31 award categories. A panel of nine judges, specialty food experts, spent three busy days tasting and evaluating all entries," NASFT reported.
Organic Concord Eden Grape Juice is pure, fresh pressed, extraordinary juice made from 100 percent organic Concord grapes from a 20 year organic family vineyard on the shore of New York's Keuka Finger Lake. Concord grape juice recently ranked #1 in antioxidant benefit out of 1,000+ foods tested. Organic Concord Eden Grape Juice is refreshing and rejuvenating, sweet yet slightly tart unlike any other.
Organic Montmorency Eden Tart Cherry Juice cherries are family orchard grown on the shore of northern Lake Michigan. Its bouquet is that of cherry pie. The tart cherry, aka the 'healing cherry,' is refreshing and rejuvenating with at least 17 antioxidants and spectacular flavor.
Organic Eden Juices are just pure juice, simply pressed, lightly filtered, and bottled without processing enzymes, chemical additives, concentrates, sweeteners, or water. Amber glass protects their flavor, nutrients, color, and efficacy.
---
Eden Foods is a principled, 43 year independent manufacturer of natural food offering more than 250 authentic, organic, traditional,

, Pure foods. All are superb pantry fare. Information and over 1,000 free recipes are at
www.edenfoods.com
. Retailers, institutions, and co-ops, please visit us at
access.edenfoods.com
.