8 February 2011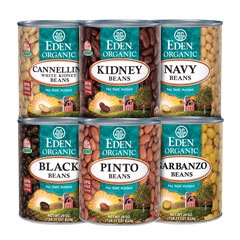 Clinton, Michigan - Eden Foods announces six new 29 ounce, no-salt added, U.S.A. family organic canned beans: Black Turtle Beans, Dark Red Kidney Beans, Garbanzo (chick peas), Navy Beans, Pinto Beans, and Cannellini (large white kidney) Beans. Eden 15 ounce, 29 ounce, and 108 ounce beans come in custom, bisphenol-A (BPA) free lined cans. All are made at Eden's Meridian Foods in east central Indiana that is universally known in the canning industry as producing canned beans of the best 'fill and finish'. Eden Foods has been canning organic beans for twenty years and is excited about this introduction because in conventional canned beans the 29 ounce size out sells the 15 ounce size, ten to one.
Every Eden organic bean is U.S.A. grown and packed in custom made steel cans lined with a baked on oleoresinous c-enamel that does not contain the endocrine disrupter chemical BPA. These cans cost fourteen percent more than industry standard cans that do contain BPA. Eden 15 and 29 ounce beans ship in display ready corrugated trays that are shrink wrapped in clear film, twelve cans per case. 100% of Eden bean packaging materials are readily recyclable. The 108 ounce food service size cans are packed six per case in corrugated boxes.
Eden beans are organically grown by salt-of-the-earth Americans dedicated to cleansing the environment and producing the best tasting and most nutritious food. Decades organic vital soil produces beans of a much higher mineral content and integrity allowing them to be cooked without processing aids or chemical additives that are ubiquitous other than in Eden.
Eden beans are a great source of fiber, protein, complex carbohydrates, potassium, B vitamins, antioxidants, and many efficacious phytonutrients. They're ideal for soups, stews, salads, dips, spreads, salsa, and thousands of ethnic dishes that are tasty and healthy. Combining them with whole grain provides the best foundation possible for a healthy diet.

kosher.
---
Eden Foods is a principled, 43 year independent manufacturer of natural food offering more than 250 authentic, organic, traditional,

, Pure foods. All are superb pantry fare. Information and over 1000 free recipes are at
www.edenfoods.com
. Retailers, institutions, and co-ops, please visit us at
access.edenfoods.com
.