7 November 2002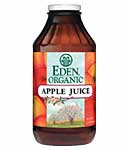 Clinton, Michigan - Eden Organic Apple Juice was honored with Alive Magazine's Award of Excellence at the Canadian Health Food Association Convention in Toronto on 21 September 2002.
Alive, one of Canada's premier consumer health magazines, created the Award of Excellence nine years ago to promote excellence and ethics in health products and to add credibility to the natural health industry. Award judges are Canadian natural food retailers. Their criteria include flavor, nutrition, integrity of ingredients, processing, and promotion; organic integrity, and customer feedback. The judges found that Eden Organic Apple Juice excelled in all of these categories.
Eden Organic Apple Juice is made using traditional methods. Apples are hand sorted, washed, and then pressed on a Swiss made Bucher juice press with no 'press aids,' enzymes, concentrates, water, or sweetener. The juice is lightly filtered and bottled in amber glass to protect its flavor and nutrients. Its slight cloudiness shows that it's good old fashioned juice and that no enzymes were used.
Most apple juices, both commercial and 'natural' are made using press aids (pellets of compressed scrap wood) and enzymes to draw more juice out of the fruit. Enzymes are used in pressing and later for clarification. Many juices are from concentrates and have added sugar. The enzymes used in juice production are almost always genetically engineered. Eden Organic Apple Juice is simply organically grown apples providing the best flavor, nutrition, and peace of mind.
The Alive Award of Excellence is the latest of several awards and honors that Eden Foods and Eden brand foods have received in recent years. Others include:
The Socially Responsible Business Award (13 October 2001 at Natural Products Expo East in Washington, D.C.). The award is sponsored by Khalsa International Industries and Trades and other respected natural products businesses to recognize companies and individuals that are exemplary in upholding socially responsible business practices. Nominees and recipients are chosen based on the Social Venture Network's Standards of Corporate Responsibility. A panel of judges assesses companies according to nine categories: Ethics, Accountability, Governance, Financial Returns, Employment Practices, Business Relationships, Products and Services, Community Involvement, and Environmental Protection.
E

den

Montmorency Cherry Juice was recognized as one of the top fine beverages in the world, receiving the award of Outstanding Beverage from the National Association for the Specialty Food Trade (NASFT) on 9 July 2001. It was one of just four chosen as the best out of 53 entries evaluated for flavor and quality by a panel of expert tasters and chefs.
E

den

Traditionally Brewed Shoyu was the highest rated and only 'Highly Recommended' brand in two comparisons of 12 soy sauces by Cook's Illustrated Magazine, as reported in its January/February 2000 issue. Tasters decisively ranked this 'distinct' soy sauce number one in both taste tests," the authors said. "The flavor was 'toasty, caramel-y, and complex,' not wimpy. Rich, clean, and balanced, with 'vivid' flavor. The salt flavor was tangible but not overpowering." E

den

Organic Traditionally Brewed Tamari was also recommended, described as "Very savory, rounded and smooth. A solid finish in both taste tests." Each sauce was rated on 'favorability,' intensity of overall flavor, quality of salt flavor, and overall likability when used both alone and in cooking. E

den

was the decisive favorite in both categories. Cook's Illustrated is an independent publication that is not affiliated with Eden Foods and does not endorse products.
Prevention Magazine declared E

den

Extra Virgin Spanish Olive Oil as its All Around Best Buy, rating the highest in flavor and protective nutrients out of the 22 brands of extra virgin olive oil studied. (Prevention, September 1999.) E

den

Olive Oil scored above all others at a taste test conducted according to the standards of the International Olive Oil Council based in Madrid, Spain. The tasters praised E

den

for its "Zesty, buttery, assertive taste." E

den

Olive Oil also scored highest in a thorough comparison of nutritional value. Comparing price-per-ounce of the best oils, E

den

was also shown to be an exceptional value.
---
Eden means no irradiation, no preservatives, no chemical additives, no food colorings, no refined sugars, no genetically engineered ingredients; just the safest, most nutritious, certified organically grown food that can be found. More than 260 Eden foods are available at discerning retailers in the U.S.A. and Canada. For more information, or if you would like our email for press releases, please call 800 248-0320, email us at cs@edenfoods.com or visit www.edenfoods.com. Retailers and Co-ops please go to access.edenfoods.com.