12 June 2002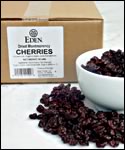 Clinton, Michigan - Eden Foods adds to its line of traditionally made fruit with NEW Dried Montmorency Tart Cherries, a heart healthy treat infused with Eden organic apple juice concentrate. No refined sugar or sulfites added.
Eden Dried Montmorency Tart Cherries are from 'transitional to organic' orchards that are in the process of becoming certified organic while using organic methods without pesticides. Fresh harvested cherries are cooled overnight in circulating water, then pitted and 'quick frozen' in ten minutes. Through this process they are inspected repeatedly, both visually and by machine.
To make the dried cherries the pitted cherries are thawed and infused by immersing them in organic apple juice concentrate that is circulated over the cherries until they reach the right 'brix' or sweetness. The infused cherries are rinsed, low heat dried, and then coated very lightly with a mist of organic safflower oil to keep them from clumping. The low heat drying is warm air circulated until they are dry enough to become shelf stable, requiring no refrigeration. The finished cherries are packed in ten (10) pound boxes.
A good source of potassium, low in sodium and fat free, Eden Dried Montmorency Tart Cherries promote cardiovascular health. They are a good source of fiber and beta carotene vitamin A, and provide 4% daily value of magnesium per serving, a sweet and zingy snack. All Eden fruit is certified k kosher.
Unlike most dried fruit, Eden Dried Montmorency Tart Cherries contain NO added sugar and NO sulfites. In A Consumer's Dictionary of Food Additives (New York, 1989), Ruth Winter explains that sulfites are chemical preservatives that have GRAS (generally regarded as safe) status by the FDA. However she states, "Reactions to sulfites can include acute asthma attacks, loss of consciousness, anaphylactic shock, diarrhea, and nausea occurring soon after ingesting sulfiting agents."
The montmorency cherry has long been known as the 'Healing Cherry'. It is a potent source of at least seventeen powerful antioxidant nutrients. Where montmorencies have been grown for generations the locals attest to this cherry's ability to ease symptoms of gout, chronic pain, and arthritis. A study at Michigan State University found that cyanidin, an anti-inflammatory compound in the montmorency cherry, is ten times more potent than aspirin.
Eden's cherries and apples are grown near the east shore of northern Lake Michigan an ideal and historic tree fruit producing area due to its seasonal lake effect. Almost a decade ago six families in this region asked Eden Foods to help them convert their orchards to organic. These original orchards have now been managed organically for nine years and more orchards are being converted to organic each year.
Dried Montmorency Tart Cherries expand Eden's fruit offerings to seven, joining Eden Organic Apple Juice, Organic Apple Cherry Juice, Montmorency Cherry Juice, Organic Apple Sauce, Montmorency Tart Cherry Butter, and Organic Apple Butter. Each is slowly prepared with no sugar, genetically engineered enzymes, or any other short cut.
---
Eden means no irradiation, no preservatives, no chemical additives, no food colorings, no refined sugars, no genetically engineered ingredients; just the safest, most nutritious, certified organically grown food that can be found. More than 260 Eden foods are available at discerning retailers in the U.S.A. and Canada. For more information, or if you would like our email for press releases, please call 800 248-0320, email us at cs@edenfoods.com or visit www.edenfoods.com. Retailers and Co-ops please go to access.edenfoods.com.