22 September 2009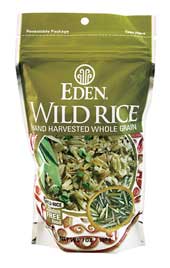 Clinton, Michigan - Eden Wild Rice received an award from Vegetarian Times September 2009 after readers cast more than 36,000 votes identifying 125 worthy food purchases and their top 25 picks. It is announced in their October magazine issue.
In the PANTRY PLEASERS Go-To Grains category readers voted Eden Wild Rice No. 1 saying, "If plain brown rice is your only go-to grain, it's time to branch out. Eden Wild Rice takes first place for its unique earthy flavors, and fabulous texture."
Eden Wild Rice is hand harvested in canoes from northern Minnesota lakes by the Leech Lake band of Ojibwe. Wood fire parching imparts a mild nutty flavor and offers the experience of true wild rice - light, fluffy, and sweet. It cooks in 30 to 35 minutes. Eden considers it No. 1 too, because it's the best we have tasted or found anywhere.
Eden Wild Rice is rare authentic wild rice. State and tribal law distinguish authentic wild rice as Native harvested using the non-mechanized methods that have been handed down through generations for over a thousand years. Authentic wild rice is in danger of contamination from domesticated, hybrid strains. Eden Wild Rice supports the traditional culture and helps preserve this age old crop and harvesting style.
Eden Wild Rice is 100 percent whole grain, Wheat and Gluten Free, and is a good source of quality vegetable protein and healthy fiber. It's packaged in protective resealable 7 ounce standing pouches.

kosher pareve.
---
Eden Foods is a 41 year principled manufacturer of natural food offering more than 250 authentic, organic, traditional,

, Pure foods. All are superb pantry fare. Information and over 900 free recipes are at
www.edenfoods.com
. Retailers, institutions, and co-ops, please visit us at
access.edenfoods.com
.