12 November 2008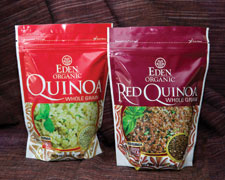 Clinton, Michigan - Eden Foods adds high altitude family farm Organic Red Quinoa to its, now, eleven whole grains.
Eden Organic Red Quinoa Chenopodium quinoa is the rare heirloom pasankalla variety. It is organically grown on Bolivia's Andean Plateau at over 12,000 feet. The Uyuni Salt Flats region has an arid climate and rich soil yielding larger quinoa grains. This delicately flavored red quinoa is sweeter than our white quinoa.
Over 7,000 years ago the Inca called quinoa the 'Mother Grain'. It was a staple food and cultural centerpiece providing lysine and threonine amino acids that are scarce in other cereals. Quinoa has the most complete amino acid profile of grains and is known as the 'rice of the new millennium'.
Quinoa is completely gluten-free. The American Celiac Sprue Association and the Canadian Celiac Association recommend quinoa as a nourishing grain for those sensitive to wheat. Eden Organic Red Quinoa is an excellent source of fiber, a rich source of magnesium and folate (vitamin B9), and a good source of protein, iron, thiamin (B1), and riboflavin (B2).
Native peoples dedicated to time-honored practices help preserve the region's ecology and culture by growing this ancient quinoa organically. They reject modern hybrids, genetically engineered varieties, and toxic chemicals.
The seeds are planted according to custom when cacti begin to bloom. This ranges from September to October depending on the year's climate. Quinoa is hand-harvested the following April. Saponins, a bitter seed coating, are mechanically removed. Pure mountain water is used to wash them away and clean the quinoa. This quinoa deeply supports their traditional culture.
Red quinoa is packaged at Eden's headquarters in Clinton, Michigan. AIB International rates this facility 'Superior', the highest possible rating for food safety and sanitation. Free-standing, resealable protective pouches offer convenient merchandising and use. Each one-pound package is nitrogen flushed to further maintain freshness. All Eden whole grains are

pareve.
The USDA recently acknowledged that whole grain is an essential part of a healthy diet. Eden Organic Red Quinoa is a perfect fit. As opposed to refined grain, 'whole grain' retains 100% of the edible parts: bran, germ, and endosperm. The FDA recognizes whole grain benefits: "Diets rich in whole grain food and other plant foods, and low in total fat, saturated fat, and cholesterol may reduce the risk of heart disease and some cancers." Like all Eden Organic Grain, the red quinoa is a 100% whole grain with nothing ever added or taken away.
Quinoa is an excellent alternative to rice and any grain. It is one of the fastest cooking whole grains, light and fluffy in less than 15 minutes. It is an excellent entrée and a well-suited complement to beans, vegetables, soups, stews, and salads. Red quinoa adds bright color and pizzazz to desserts and puddings. Quinoa can be freshly ground into flour using a blender, making it an easy and versatile addition to baked goods. Visit www.edenfoods.com for further information and recipes.
---
Eden means no irradiation, no preservatives, no chemical additives, no food colorings, no refined sugars, no genetically engineered ingredients; just the safest, most nutritious, certified organically grown food that can be found. More than 260 Eden foods are available at discerning retailers in the U.S.A. and Canada. For more information, or if you would like our email for press releases, please call 800 248-0320, email us at cs@edenfoods.com or visit www.edenfoods.com. Retailers and Co-ops please go to access.edenfoods.com.