24 September 2008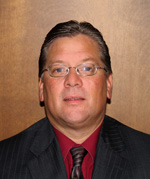 Clinton, Michigan - Eden Foods announces Mr. Richard J. Miller in the role of National Sales Manager beginning 29 September 2008.
Mr. Miller brings 28 years of grocery management experience, including 25 years with Hiller's Market, an independent, Detroit-based upscale grocery chain. Consistent through Richard's career he's been trusted and excelled in roles demanding creativity and skillful resource management. As a Senior Manager he introduced and established Natural and Organic food throughout the stores. His extensive experience includes Category Management for Farmer Jack/A&P.
Earning a Bachelor of Business Administration from Northwood University in Midland, Michigan and a Master of Science in Management/Marketing from Walsh College in Troy, Michigan, Richard Miller brings demonstrated effectiveness and innovation to handling day-to-day operations, management, and progressive development. At Eden he will lead our team throughout the United States and Canada.
"Richard is warm, engaging and personable enabling him to communicate easily. He is respected as a successful leader," says Sue Becker, Eden's Vice President of Marketing and Sales. "The company is eager to work with him in serving and expanding the market."
Richard's new email address is rmiller@edenfoods.com.
---
Established in 1968 Eden is North America's oldest natural and organic food company, and premier independent manufacturer of dry grocery specialty food. More than 260 E
den
® foods are available at discerning retailers in the U.S.A. and Canada. Please contact us at 800 248-0320,
sales@edenfoods.com
or
access.edenfoods.com
.