10 July 2008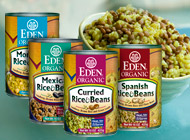 Clinton, Michigan - Eden Foods adds four NEW Eden Organic Rice & Beans: Spanish, Mexican, Curried, and Moroccan. All in bisphenol-A free 15 ounce cans.
Eden Organic Rice & Beans are USA small farm organically grown beans and Lundberg™ organic short grain brown rice, with 100% organic vegetables, herbs, and spices. They are prepared at Eden's certified organic and kosher cannery in Eaton, Indiana. Beans are soaked overnight, blanched, combined with the brown rice and seasonings and thoroughly cooked with purified water and a bit of Eden Sea Salt.
Eden Organic Rice & Beans in ten varieties:
Eden Organic Rice & Beans are the finest they can be, low fat, saturated fat free, cholesterol free, and a good source of magnesium. They offer important fiber and have much less salt than other brands. All Nutrition Facts are at www.edenfoods.com.
Whole grain and beans together deliver a wealth of nutrients and 'complete' protein with all essential amino acids. The FDA added brown rice to its list of Heart Healthy whole grains in May 2008; "Diets rich in whole grain foods and other plant foods and low in total fat, saturated fat and cholesterol may reduce the risk of heart disease and some cancers." The science behind this health claim clearly shows the benefits of whole grain are not from single nutrient components. Whole grain is what is emphasized.
Eden Organic Rice & Beans are cooked in steel cans coated with a baked-on c-enamel that does not contain the endocrine disruptor bisphenol-A (BPA). These cans cost 14 percent more than industry standard cans that do contain BPA. The can maker, Ball Corporation, tells us that Eden is the only U.S. food manufacturer to date to use these BPA free cans, and we have been since 1999.
With Eden Organic Rice & Beans in the pantry it's easy to make wholesome meals in minutes. Just heat, stir, and serve. For quick burritos just spoon onto tortillas and add salsa. For hearty soups or stews just add what you have, some liquid, adjust the seasoning, and simmer until ready. They make delicious Burgers (free recipes at edenfoods.com). Enjoy and share the time saved; satisfying meals delivering wonderful benefits with ready to serve Eden Organic Rice & Beans.
Eden Certified Organic Rice & Beans in 15 ounce cans.

kosher pareve.
---
Eden means no irradiation, no preservatives, no chemical additives, no food colorings, no refined sugars, no genetically engineered ingredients; just the safest, most nutritious, certified organically grown food that can be found. More than 260 Eden foods are available at discerning retailers in the U.S.A. and Canada. For more information, or if you would like our email for press releases, please call 800 248-0320, email us at cs@edenfoods.com or visit www.edenfoods.com. Retailers and Co-ops please go to access.edenfoods.com.