3 April 2008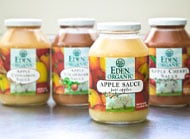 Clinton, Michigan – Eden Organic Apple Sauce was inducted into the Taster's Choice Hall of Fame after a study of one dozen organic apple sauces by an expert panel of tasters from the San Francisco Bay area.
The San Francisco Chronicle organized the taste test for its "Tasters Choice" feature. Judges were cookbook author John Carroll of San Francisco; Marc Halperin, director of the Center for Culinary Development in San Francisco; consultant Shelley Handler of San Francisco; recipe developer and consultant Rosemary Mark of Walnut Creek; and Roland Passot, chef-owner of La Folie and Left Banks restaurants in California.
Eden Organic Apple Sauce ranked behind Mollie O Organic. Both went into the Hall of Fame. In a blind test of twelve unsweetened organic apple sauces "Everything from smooth to chunky to heirloom fruit was represented," said Chronicle staff writer Amanda Gold. "The results were surprisingly positive."
Eden Organic Apple Sauce rated so high that it won a spot in the Taster's Choice Hall of Fame, an honor reserved for exceptional foods. To see the awards, past and present, go to www.sfgate.com/food/tasters/archive/
"Tasters found Eden Organic Apple Sauce to have a 'very good sweet-tart balance,' a 'good apple flavor' and a great texture," the Chronicle reported.
Eden Organic Apple Sauce is a blend of heirloom varieties of apples organically grown on family owned orchards on the shores of the Great Lakes, an ideal tree fruit area due to the seasonal lake effect mitigating late Spring frosts. Eden has worked with these families for fourteen years, watching the conversion of their trees and orchards to Certified Organic. After years of organic management these orchards produce some of the world's finest, tastiest, most nutritious fruit.
Apples are hand sorted, washed, peeled, cored, sliced, chopped, and slowly cooked into a pure thick sauce with nothing but fruit or cinnamon added. Eden Organic Apple Sauce comes in four flavors …
Eden Organic Apple Sauce is packed in 25 ounce Glass. Each is a taste delight, loaded with antioxidants and phyto-nutrients, and

kosher pareve.
---
Eden means no irradiation, no preservatives, no chemical additives, no food colorings, no refined sugars, no genetically engineered ingredients; just the safest, most nutritious, certified organically grown food that can be found. More than 260 Eden foods are available at discerning retailers in the U.S.A. and Canada. For more information, or if you would like our email for press releases, please call 800 248-0320, email us at cs@edenfoods.com or visit www.edenfoods.com. Retailers and Co-ops please go to access.edenfoods.com.