28 March 2008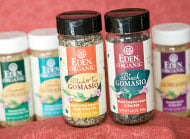 Clinton, Michigan — Eden Foods introduces two Gomasios (Sesame Salts). NEW Organic Black Gomasio and NEW Organic Black & Tan Gomasio.
Eden Black Gomasio is made from prized whole black organic sesame seed, dry roasted and ground with roasted sea salt. Eden Black & Tan Gomasio is made the same way with a blend of whole organic black and whole tan sesame seed.
Eden Organic Gomasio is a tasty and wholesome, low sodium condiment to be sprinkled on almost any food instead of table salt. Each is traditionally crafted at Eden's AIB Superior rated Clinton, Michigan facility. Organically grown, unhulled sesame seed is dry roasted to release its oil, and slowly ground with oven roasted Eden Sea Salt. The oil melts, coats, and mellows the salt crystals, gently carrying its flavor and creating a smooth, mellow condiment.
Eden Organic Gomasio is made in five varieties …
Each is low fat and low sodium.
Gomasio is traditional sesame salt used for centuries in Japan. Goma means sesame, and shio means salt. There has never been a tradition of sprinkling raw salt on food in the East. Special condiments like gomasio were prepared for use at the table. When hot sesame is combined and ground with salt, the seed's oil coats and melts the salt, mellowing it so you experience full flavor while consuming less salt.
In the 1960s the patriarch of macrobiotics, George Ohsawa recommended gomasio as a replacement of raw table salt. This popularized gomasio throughout Europe and the Americas as a healthy alternative. Mr. Ohsawa's shared wisdom is as meaningful today as ever, especially as most Americans are consuming, and have consumed far too much sodium.
The expression 'open sesame' declares an entrance into splendor and abundance. Believed to have originated in Africa, sesame Sesamum indicum is the oldest known herbaceous plant grown for seed. Used far into prehistory, sesame was an important food of Mediterranean and Eastern civilizations. The Ancient Egyptians milled sesame seed to make flour, Greek and Turkish soldiers carried it in their rations, and the Romans ground it into paste to spread on bread. Today, sesame is recognized as one of the most concentrated sources of important nutrients including essential fatty acids, calcium, iron, and high quality protein with amino acids such as methionine, tryptophan and lysine that are often missing in other vegetable protein sources.
Eden Organic Gomasio is delicious on whole grains, noodles, baked potatoes, salads, vegetables, and sprinkled over Eden Organic Popcorn. It's a tasty addition to vinaigrettes and marinades, and an ideal flourish for all grilled food.
Eden Gomasio is packaged in 3.5 ounce glass with a convenient, easy to use dual shaker/pour top.

kosher pareve.
---
Eden means no irradiation, no preservatives, no chemical additives, no food colorings, no refined sugars, no genetically engineered ingredients; just the safest, most nutritious, certified organically grown food that can be found. More than 260 Eden foods are available at discerning retailers in the U.S.A. and Canada. For more information, or if you would like our email for press releases, please call 800 248-0320, email us at cs@edenfoods.com or visit www.edenfoods.com. Retailers and Co-ops please go to access.edenfoods.com.