5 January 2001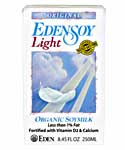 Clinton, Michigan - America's first and favorite soymilk is lighter. Eden introduces Edensoy Light Original and Edensoy Light Vanilla to its line of certified organic, tested GEO free liquid food made from whole soybeans and grain.
Edensoy Light has all the quality of the leading soymilk Edensoy with less than one percent fat. It has a light, delicious taste sure to be enjoyed by all who try it, even those who may not be inclined to. Organic Maple Syrup gives it a refreshing sweetness that everyone likes. Edensoy Lights are vitamin D2 and calcium fortified.
More than four years in the making, Edensoy Lights reflect wisdom and technical perfection. Edensoy Light was crafted to satisfy our patrons' requests and embodies the quality and diligence for which the Eden brand is known.
"Edensoy Light is the first soymilk designed for universal appeal, and due to our refusal to compromise on quality or thoroughness of cooking, it nourishes better than any other soymilk," says Eden Foods' President Michael Potter. Unusual for soymilk, Edensoy does not use or add hexane defatted soy protein isolate, refined sugars, or oil. We exhaustively test ingredients to avoid GEOs.
Edensoy Light Original and Edensoy Light Vanilla are the newest soymilks from America's oldest soymilk maker. The creator of the non dairy liquid food category. Edensoy Original (introduced 1983), Edensoy Vanilla, and Edensoy Carob; fortified Edensoy EXTRA in Original and Vanilla, and Edenblend made with Lundberg® organic brown rice, make up the rest of the line. Each comes in one liter (33.8 ounce) aseptic containers with the newest 'Recap 3' opening and closure, and in 8.5 ounce drink boxes that require no refrigeration until opening, saving energy and preserving quality.
Edensoy soymilks are made from whole soybean and grain, organically grown in living soil on family farms by those committed to clean food that's the best tasting and most nutritious. Eden selected ingredients, reverse osmosis purified water, 240 continuous quality control checks, and years of research into how to best cook soy protein create the best flavor, nutrition, and satisfaction. Edensoy's protein and nourishment are from organic whole beans, and it is thoroughly and intelligently cooked. A meticulous audit trail and tests at the farm, storage elevator, and maker guarantee purity from seed, to soil, to you. All are Kosher and parve

.
---
Eden means no irradiation, no preservatives, no chemical additives, no food colorings, no refined sugars, no genetically engineered ingredients; just the safest, most nutritious, certified organically grown food that can be found. More than 260 Eden foods are available at discerning retailers in the U.S.A. and Canada. For more information, or if you would like our email for press releases, please call 800 248-0320, email us at cs@edenfoods.com or visit www.edenfoods.com. Retailers and Co-ops please go to access.edenfoods.com.