Headquarters - Michigan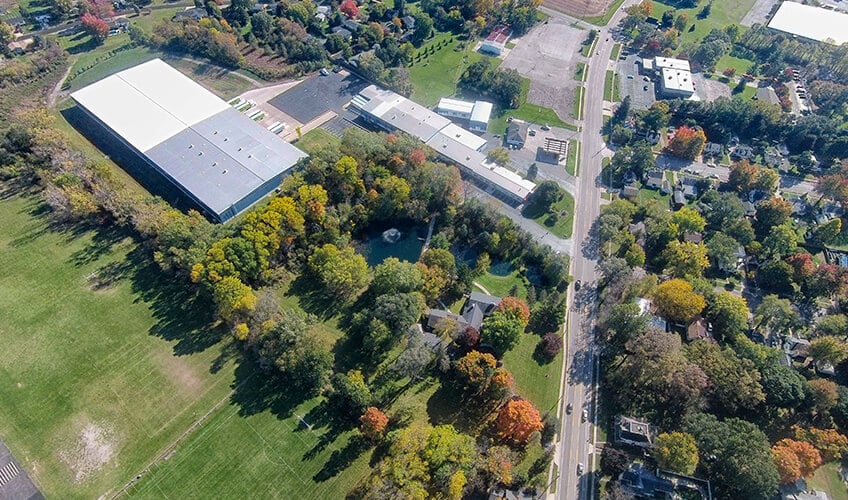 After a devastating fire in 1979 we moved headquarters from Ann Arbor to Clinton, Michigan in 1980. We have gradually assembled 32.1 contiguous, organically managed acres. The main building houses customer service, sales, purchasing, accounting, administration, information technology departments, a good kitchen, and the EDEN Store; plus a flour mill, roaster, bottling line, packaging lines, trucking/transportation, employee store, and quality assurance laboratory. The Marketing Department house and Eden Guest house are to the north. A maintenance shop building is to the south. The 135,000 sq.ft. warehouse includes cool storage, web site order fulfillment, shipping / receiving, a quality kitchen, and gathering room. Half the property borders Clinton Public Schools and the whole of it is nestled into the village in a harmonious way.
Fremont, California - People, Facility, Property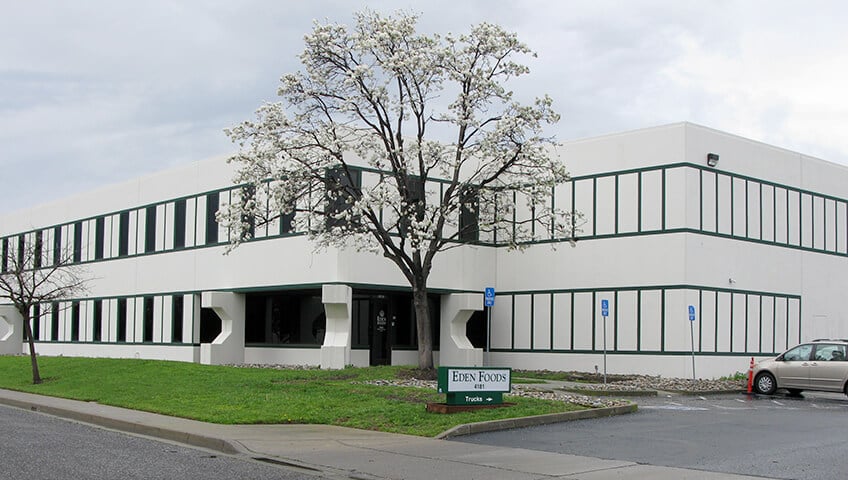 Eden Foods has operated a Bay Area California warehouse since 1986 to service folks west of the Rocky Mountains. We purchased our current building in 2014 and renovated it completely - 45,200 sq.ft. of excellently located warehouse, expertly run by dedicated staff. A most suitable way station for Pure & Purifying food.
Eden Organic Pasta Company - EOPC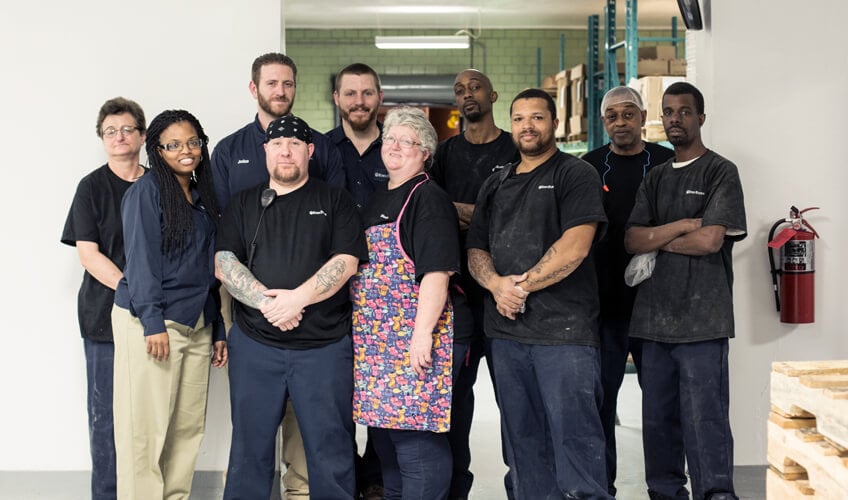 Eden Organic Pasta Company (EOPC) has been producing pasta daily since 1923. In the early 1970s Eden was looking for more ways to perk up the eating of whole grain. We asked the Schmidt Noodle Company of Detroit to make whole grain spaghetti for us. After experimentation and learning how to make the flour needed, 100% whole grain organic pasta was realized.
In 1982, to protect supply, Eden Foods purchased this pasta factory. It became North America's first third-party certified organic food processing facility in 1989. EOPC has maintained the Schmidt's tradition of small batch crafting using its antique Italian equipment, brass macaroni dies, slow inside-out drying, noodle rollers, know how, and the finest, healthy soil, organic Eden grain.
Very important are its people who care. You can learn about them, read some background about EOPC and the Schmidt Noodle Company, and get free recipes at edenpasta.com. EOPC is included as a green company on the Detroit Green Map.
American Soy Products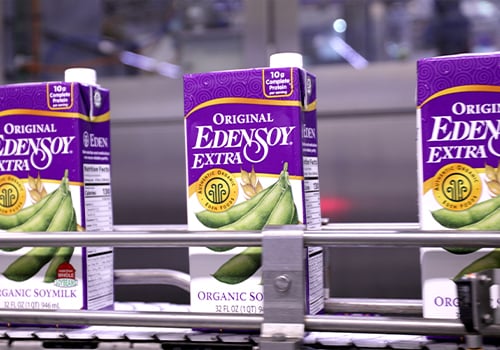 In 1983 Eden discovered soymilk made using techniques pioneered at Cornell University in Japan. Engineered by a miso manufacturer to nurture human beings, we improved the ingredients and EDENSOY was introduced in July of that year. Its phenomenal success created a new grocery category, non-dairy liquid food. In 1985 Eden founded a joint venture company, American Soy Products in Saline, Michigan to make EDENSOY in the U.S.A. EDENSOY is a full line of whole soybean, certified organic soymilks in seven flavors, delicious nourishment in eco-friendly, shelf stable Tetra Pak® aseptic cartons.
Meridian Foods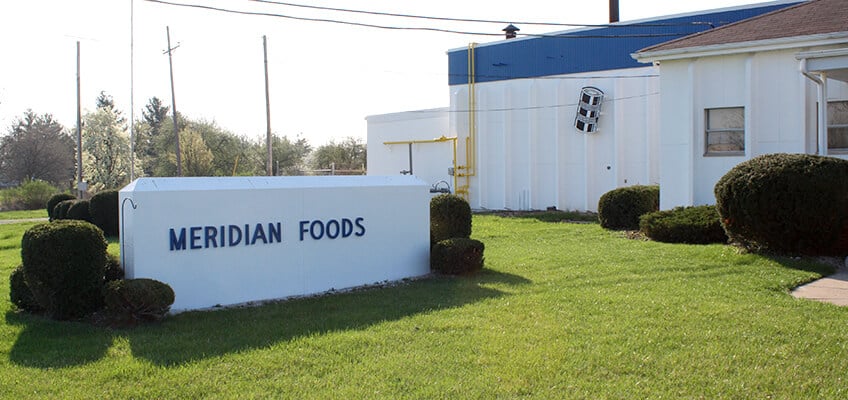 We were sure the convenience of precooked organic beans would be appreciated, so we located a cannery with a reputation for the best 'fill and finish" in the industry and began canning EDEN beans in 1991. Since then Meridian Foods has thoroughly cooked and canned EDEN beans in ways that we perfected in our kitchens at home. Our cannery is in east central Indiana and is BRC, organic, and
kosher certified. Again, to protect our supply we purchased Meridian Foods in 1994 from the California Bean Growers Association and completely refurbished it.
Unique to Meridian Foods is that all the beans they can are first soaked overnight, making them easier to digest and giving them a more home cooked flavor. Most EDEN beans are cooked with a bit of kombu sea vegetable. You don't taste the kombu because it doesn't add flavor, but it enhances the inherent flavor of these fine organic beans, while its valuable amino acid profile smooths their mouth feel and heightens our feeling of satisfaction.
Sobaya Company - Udon and Soba Noodles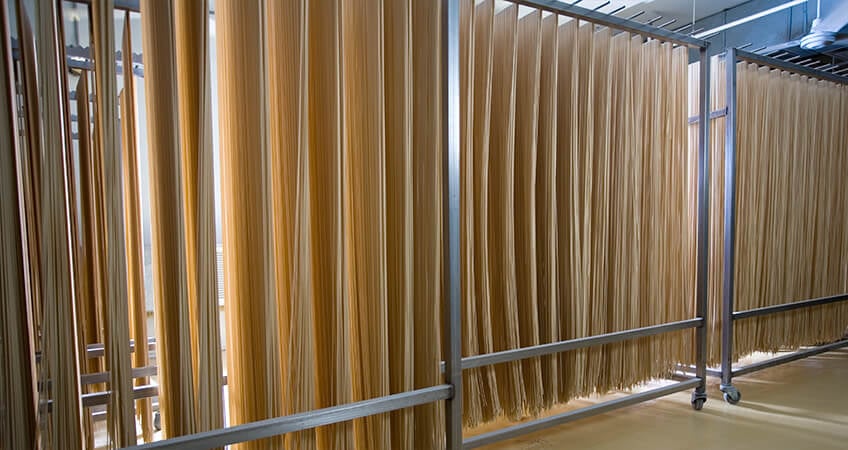 In 2001 Eden acquired the Sobaya Company of Montréal, Québec - North America's only certified organic traditional Japanese noodle maker. This union took us deeper into the Canadian market that Eden Foods has served since 1970. We have pioneered new ancient whole grain selections, adding them to both the Sobaya brand in Canada and the EDEN brand in the U.S.A. These soba and udon noodles are offered in reclosable and recyclable packages, three come in 10 pound bulk boxes.