» »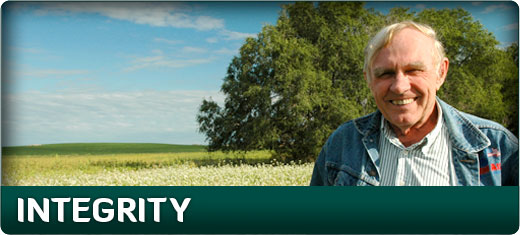 Though all E
den
organic food is grown, handled, processed, and certified in a way that meets and exceeds the requirements for using the 'USDA Organic' seal, Eden chooses not to use this seal on its food labels. In short this seal does not approach Eden's standards for organic, in practice or in spirit.
READ MORE »

Who Says It's Organic?
In 1988 after twenty years of doing organic certification ourselves, we adopted third-party organic certification. Eden farm and factory systems, and manuals were guiding and became bedrock for the new organic certifiers.
Eden discerningly selects certifying agencies for third-party certification. Our primary is the Organic Crop Improvement Association (OCIA), yet we always maintain complete responsibility for ensuring organic authenticity. It is far more than paperwork to us. We know our growers well. They use third-party certifiers who work with Eden standards, require an audit trail, and provide deep transparency. Knowing what motivates our growers is essential to us before we can have confidence in their food.
Regrettably, organic food no longer has to be natural food. There are hundreds of chemicals and 'allowables' permitted in the USDA National Organic Program (NOP) that Eden avoids. With USDA organic certification requirements vary a lot, all the way to nonexistent. Accountability is rare, especially for imported food.
We do not consider food 'certified organic' unless we have completed thorough due diligence regarding its authenticity. The same is true for our non-genetically engineered claims. We test, so we know, before we say it is.
Eden organic food meets and exceeds requirements for the USDA organic seal, but we do not use it because it does not reflect Eden standards, in spirit or in practice. For further insight please visit edenfoods.com/skeptic
GMO Free Assurance Since 1993
Since 1993 Eden has diligently created a system that totally avoids genetically engineered food. The GMO industry and USDA want us to believe commercial scale GMO free food is impossible, as they've thoroughly (and intentionally) polluted the food supply. Eden foods are proof that non-GMO food is doable. We have the records, tests, and foods that demonstrate it.
The Non-GMO Project (The Project) was created by industry members from all of its sectors in the U.S.A. and Canada. The Project works to provide consumers and makers a third party non-GMO verification program through all levels of the supply chain, providing verified non-GMO alternatives to the public. Eden Foods' president, Michael Potter is one of eleven governing members of its board of directors who have been involved in initiating, funding, and writing standards for The Project. The Project is North America's first independent non-GMO verification program utilizing on-site facility audits, document and systems reviews, and DNA PCR (polymerase chain reaction) testing of all inputs at risk for GMO contamination.
To view Eden foods that are verified or being verified by the Non-GMO Project, visit edenfoods.com/verified
Irradiation Free
Realizing that powerful forces were determined to make food irradiation a common practice, Eden first communicated with our customers about this issue and established a Zero Tolerance policy for irradiated foods in 1988. Today, as irradiation is an ever-increasing threat to human rights and health, Eden's position remains Zero Tolerance. Rigorous selection and screening down to every herb, spice, and seasoning provides us 100% confidence that no Eden food or ingredient is, has been, or ever will be subject to irradiation. We encourage your vigilance and activism.
More About Our Irradiation Stance »
'Superior' Food Safety
Eden employs AIB International to audit food safety and its systems. Since 2000 all Eden warehouses and processing facilities have passed AIB's stringent annual inspection standards.
Eden is committed to allergen control. In 2007 we built an isolated packaging room to reduce the possibility of wheat gluten contamination in our gluten-free foods. This room is severely monitored to ensure that gluten-free food has no contact with wheat allergens. For a list of over 280 gluten free Eden foods please visit edenfoods.com/glutenfree.html
We have an in-house laboratory at HQs to ensure the qualities of Eden ingredients. Testing is done for allergens, vomitoxin, aflatoxin, pathogens, and GMOs. Shelf life studies, protein content, pH-acid/alkaline, Brix, moisture, water absorption, and overall freshness and quality are studied. This Eden lab tests all food we purchase prior to our acceptance of it.
Ecological Pest Control
Eden hired L. Ernest Otter's family business in 1981 to help with design and implementation of the first organic Structural Pest Management for post-harvest handling. We established systems for organic pest management that are safer and more effective than toxic chemical-based pest control. Mr. Otter says, "Eden's demand for the organic method in food handling is unmatched. When faced with a potential problem, their reaction is not (as many do) to simply move organic product aside and spray with unapproved pesticides. Their commitment is to truly understand the conditions and ecology of each situation and solve it accordingly."
Kosher
Eden has managed certification of its kosher foods since 1982. Today 91% of Eden foods are kosher. Eden chose the Organized Kashrus Laboratories of Brooklyn, New York and their

mark because of their reputation for meticulous attention to detail dating back to 1935. We began this in 1982 after realizing our natural foods were already, by virtue of our selection criteria, completely qualified for kosher status.
The

when it appears alone, means that a food is 'pareve' as well as kosher. Pareve indicates all ingredients, food contact surfaces, processing, and storage equipment are certified meat and dairy free.