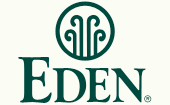 ©2017 Eden Foods, Inc.
www.edenfoods.com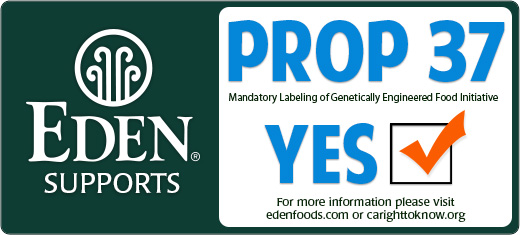 Eden Foods Supports California's Right To Know Campaign
Regarding November's Passage of Proposition 37
Please, Do Not Believe Mega-Funded Evil Lies of Those Against Prop 37
Eden Foods supports the inalienable right of people to know what is in their food. Eden Foods supports passage of California's Proposition 37 that would require labeling of genetically engineered food. "Hiding the truth about our food is pervasive, unethical, and only done for money," says Michael Potter of Eden Foods. "Let this [Prop 37] be the beginning of an end to it." To encourage passage of Proposition 37, Eden Foods is actively involved in many efforts to counter disinformation.
What is Proposition 37?
Proposition 37 is a common sense November, California ballot initiative that would help people make informed choices about the food they eat. With the help of thousands of volunteers across California, the Right to Know Campaign gathered nearly one million signatures from California voters in a ten-week period. If approved, Prop 37 will:
Require labeling on raw or processed food offered for sale to consumers if the food is made from plants or animals with genetic material changed in specified ways.


Prohibit labeling or advertising such food as "natural."


Exempt from this requirement foods that are "certified organic; unintentionally produced with genetically engineered material; made from animals fed or injected with genetically engineered material but not genetically engineered themselves; processed with or containing only small amounts of genetically engineered ingredients; administered for treatment of medical conditions; sold for immediate consumption such as in a restaurant; or alcoholic beverages."
Eden's GEO Free Assurance Since 1993:
Since 1993 Eden has diligently created a system that totally avoids genetically engineered food. The GEO industry and USDA want us to believe commercial scale GEO free food is impossible, as they've thoroughly and intentionally polluted the food supply. Yet Eden is proof that GEO free food is doable. We have records, tests, and foods that demonstrate this. The Non-GMO Project (The Project) was created by industry members from all of its sectors in the U.S.A. and Canada. The Project works to provide consumers and makers a third party non-GMO verification program through all levels of the supply chain, providing verified non-GMO alternatives to the public. Eden Foods' president, Michael Potter is one of eleven governing members of its board of directors who have been involved in initiating, funding, and writing standards for The Project. The Project is North America's first independent non-GMO verification program utilizing on-site facility audits, document and systems reviews, and DNA PCR (polymerase chain reaction) testing of all inputs at risk for GMO contamination. To view Eden foods that are verified or being verified by the Non-GMO Project, visit edenfoods.com/verified.
Eden's GEO free assurance is made possible by:
Knowing the land, our growers and their families, and suppliers.


Maintaining traditional, natural methods in food handling and processing, with no shortcuts.


Thorough audit trails and meticulous record keeping.


In house and third party GEO testing programs.
Eden President on Genetically Engineered Foods
Responding to genetically engineered organisms as food, Eden's President Michael Potter established a policy on 13 February 1993 keeping these substances out of EDEN brand food. Here are his thoughts on the past, present, and future of safe food and water.
Eden Foods encourages everyone to support Prop 37. Do not believe the evil lies of those against Prop 37.