Serves: 64 | Prep Time: 25 hours | Cook Time: 5 minutes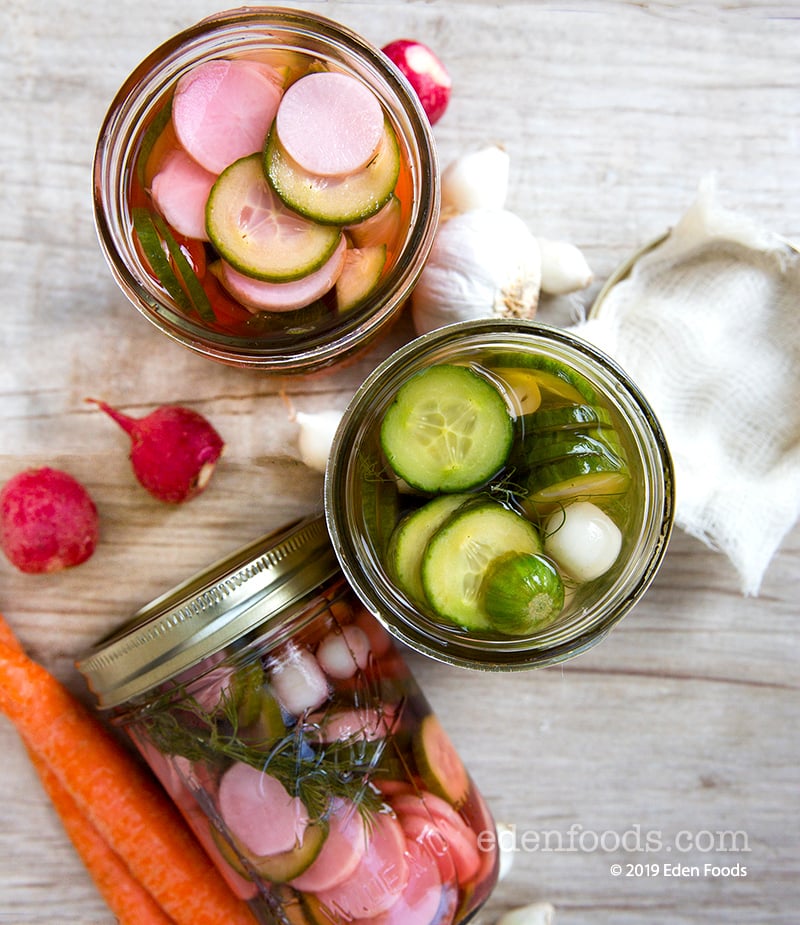 Ingredients
2 canning jars, 1 qt. size with lids

3 1/2 cups water

1 1/2 Tbsp E

den

Sea Salt

4 sprigs fresh dill

1/2 tsp celery seed

1/4 cup E

den

Brown Rice Vinegar
E

den

Apple Cider Vinegar

2/3 cup red onion, sliced into 1/4" to 1/2" thick slices

8 carrots, halved and quartered

6 pickling cucumbers, quartered

1 1/2 cup small cauliflour florets

10 red radishes, quartered or halved
Directions
Place water in a large saucepan with the sea salt, stir and bring to a boil. Reduce the flame to medium and simmer for about 5 minutes, stirring occasionally, until the salt dissolves. Turn off the flame and allow the water to cool to room temperature. Place half of the sliced vegetables, 2 sprigs of dill, 1/4 teaspoon celery seed, and 2 tablespoons brown rice vinegar in each canning jar. Pour 1 3/4 cup cooled salt water into each jar. Place the lid on the jars and shake to mix the vinegar and salt water. Remove the lid and set aside. Place the filled jars close together on the kitchen counter and cover the mouth of the jars with the sushi mat. Do not place the lids on the jars. The sushi mat allows air to circulate, preventing spoilage while they are pickling, while keeping out dust and foreign matter. If a sushi mat is not available cover with cotton cheesecloth or a piece of cotton linen. Let the jars sit on the counter for 24 hours. After 24 hours, remove the mat and place the lids on the jars. Refrigerate until cold. The pickles are now ready to eat. To reduce sodium content, rinse only the portion of pickles you wish to eat under cold water. Refrigerate the remainder. Pickles will keep 1 month or longer.

Pickles aid in digestion, but they are usually salty. For this reason it is recommended only eating a small portion daily or several times per week, about 1 or 2 tablespoons is sufficient.

Yield: 5 cups

Variation: other vegetables can be pickled as long as they are thinly sliced, quartered, halved or small florets. Some vegetables that can be used are broccoli florets, peeled and thinly sliced broccoli stems, peeled and sliced kohlrabi, regular carrots sliced thin, thinly sliced turnips, daikon radish, white radishes, chopped cabbage or Chinese cabbage, garlic cloves and even watermelon rinds to name a few.
---
Nutritional Information
Per serving - 4 calories, 0 g fat (8% calories from fat), 0 g protein, 1 g carbohydrate, 0 g fiber, 0 mg cholesterol, 132 mg sodium
---
Related Recipes