Serves: 4 | Prep Time: 10 minutes | Cook Time: 15 minutes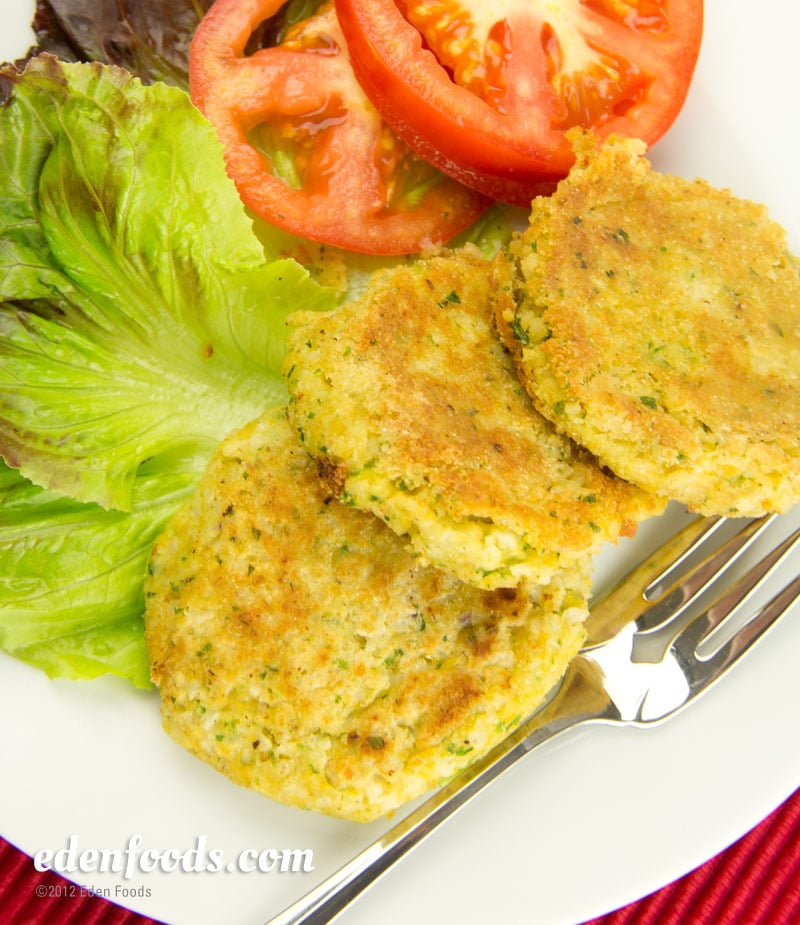 Ingredients
2 cloves garlic, minced

1/4 cup scallions, coarsely chopped

1/4 cup red onion, chopped

3 Tbsp fresh parsley, chopped

1/4 tsp E

den

Cumin
3 Tbsp E

den

Extra Virgin Olive Oil
1/4 tsp E

den

Sea Salt
15 ounces E

den

Garbanzo Beans, drained, reserve liquid, and rinsed
1 cup leftover mashed potatoes
or leftover cooked E

den

Short Grain Brown Rice or Millet
Directions
Place the garlic, scallions, onion, parsley, 1 tablespoon of olive oil, sea salt and cumin in a food processor. Process until the mixture is finely chopped. Add the garbanzo beans and mashed potatoes. Process until smooth. The mixture should be stiff. If too stiff, add a small amount of the reserved garbanzo cooking liquid. Form the mixture into 8 patties approximately 2 inches across.

Place remaining oil in a cast iron skillet and heat up. Place the patties in the skillet and reduce the flame to medium-low. Cook until golden brown, flip over and cook the other side until golden brown. Approximately 5 to 7 minutes per side. Place the patties on a serving platter and serve.

The patties are delicious served as falafel in warm pita pocket bread with lettuce, tomatoes, cucumber slices and you favorite dressing.
---
Nutritional Information
Per serving - 238 calories, 12 g fat (46% calories from fat), 6 g protein, 26 g carbohydrate, 6 g fiber, 0 mg cholesterol, 282 mg sodium
---
Related Recipes