Serves: 16 | Prep Time: 24 hours 30 minutes | Cook Time: 0 minutes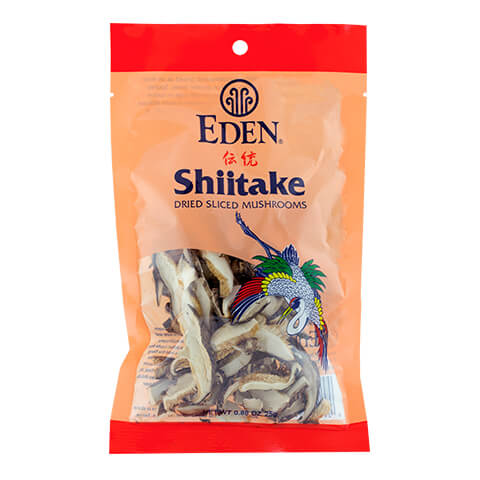 Ingredients
1 cup onion, sliced very thin

1/4 cup carrots, julienned

1 clove garlic, finely minced

3/4 cup water

1/4 cup E

den

Shoyu Soy Sauce
Directions
Place the water and shiitake in a saucepan, cover and bring to a boil. Reduce the heat to low and simmer 3 to 5 minutes. Remove from the flame and allow to cool to room temperature. When cool add the shoyu to the shiitake and water. Place the onions, carrot and garlic in a 2 cup, clean glass jar and pour the shoyu, shiitake mixture over. Make sure the liquid covers the top of the vegetables by pressing the vegetables down with a spoon. Cover the top of the jar with a piece of clean, cotton cheesecloth, securing it with a rubber band or piece of string. Set the jar on the counter and leave for 24 hours to ferment. After 24 hours remove the cheesecloth and place the jar lid on securely. Refrigerate until ready to eat.

One serving is approximately 1 tablespoon. Remove and rinse only the portion you want to eat to remove excess sodium, and refrigerate the remainder. These pickles will keep, refrigerated, for approximately 10 days to 2 weeks. The pickling brine may be reused, but add a little more shoyu to replenish sodium that the previous vegetables absorbed.

Homemade, unpasteurized pickles are a source of beneficial enzymes that aid in digestion. Be careful not to eat too many at a time as they are salty.

Variation: For variety and different flavors other vegetables can be thinly sliced and added or substituted. A small amount of Eden Brown Rice Vinegar (1/4 cup) can be added to the jar for a more sour flavor.
---
Nutritional Information
Per serving - 19 calories, 0 g fat (0% calories from fat), 1 g protein, 3 g carbohydrate, 1 g fiber, 0 mg cholesterol, 223 mg sodium
---
Related Recipes