Serves: 4 | Prep Time: 15 minutes | Cook Time: 25 minutes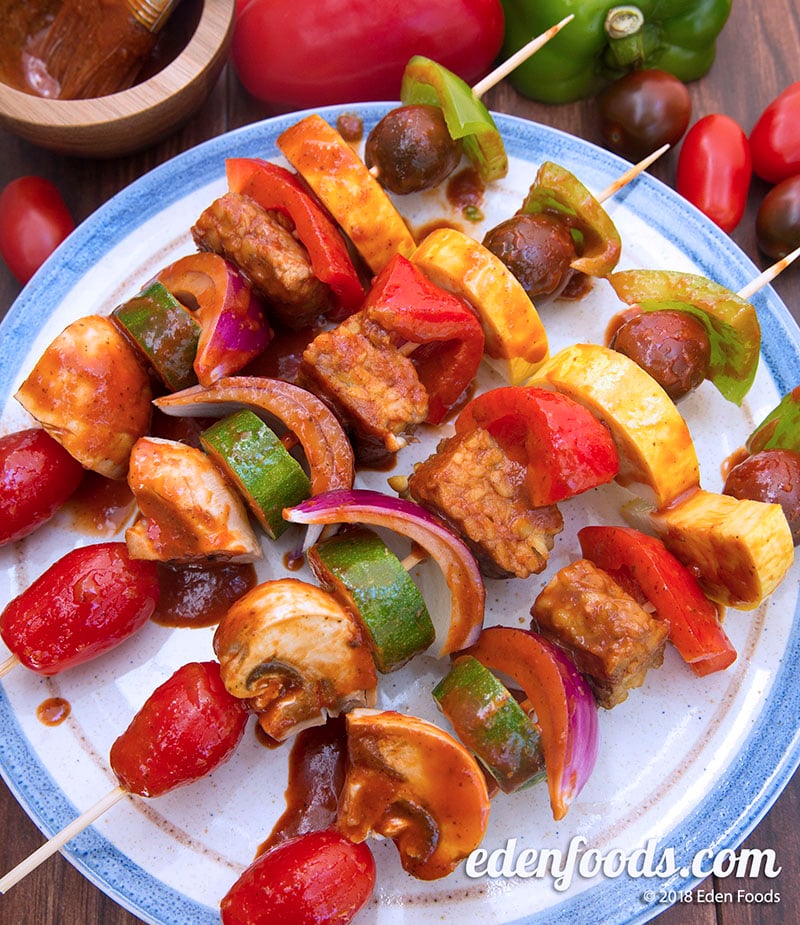 Ingredients
Barbecue Sauce
Kebab Ingredients
1 pound organic tempeh, cut into 1 inch cubes and steamed 15 minutes

1 cup organic cherry tomatoes

8 medium button mushrooms, washed
or fresh shiitake, crimini, or any fresh musrooms that can easily be skewered

1 small red bell pepper, sliced into thick strips or large chunks

1 medium red onion, sliced into thick wedges

1 medium zucchini, sliced in thick rounds

8 thick bamboo or metal skewers
Directions
Prepare the barbecue sauce by placing all the sauce ingredients into a blender. Puree several seconds until smooth.

Attractively arrange the tempeh cubes and pieces of each vegetable on the shish kebab sticks. Baste with the barbecue sauce and grill, turning and basting to prevent burning or drying out of the vegetables. Grill until the vegetables are tender, about 7 to 10 minutes.

Yields 8 kebobs, 2 per person

Note: Seitan, tofu, shellfish or seafood may be substituted for tempeh as a variation. Other vegetables such as shallots, red onion, different colored peppers, different mushrooms, yellow summer squash or even snap peas can be substituted for any of the above vegetables.
---
Nutritional Information
Per serving - 419 calories, 16 g fat (34% calories from fat), 26 g protein, 44 g carbohydrate, 15 g fiber, 0 mg cholesterol, 244 mg sodium
---
Related Recipes