Serves: 2 | Prep Time: 5 minutes | Cook Time: 10 minutes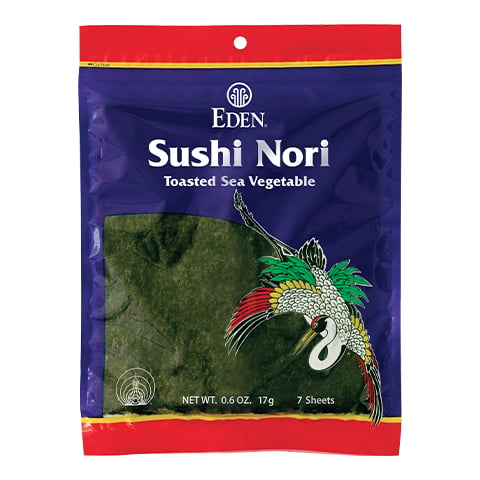 Ingredients
2 sheets E

den

Sushi Nori

2 organic whole wheat tortillas, about 8 inches in diameter

1 1/4 cups Black Soybean Spread/Dip, see Eden' recipe

1/4 cup scallions, green part only, thinly sliced

2 carrot sticks, sliced thin, about 8 inches long
Directions
With kitchen scissors, trim nori into circles about an inch smaller than the tortillas. Snip trimmed off nori pieces into tiny bits. Spread a generous 1/4 cup soybean mixture on each tortilla. Sprinkle with 2 tablespoons scallion greens. Press nori gently into place on top of the scallions. Divide remaining soybean mixture in half and spread on top of each piece of nori. Sprinkle on remaining scallions and nori bits. Set carrot sticks horizontally along bottom edge.

Roll up tortilla. Moisten top edge slightly and press gently to seal. If you're making a wrap, you are done! If making "sushi", set seam side down and with a serrated knife, trim off ends. Slice each wrap into six pieces and arrange on a platter.

Note: Whole wheat tortillas are available in most natural food stores. This recipe can be doubled or tripled.
---
Nutritional Information
Per serving - 154 calories, 3 g fat (15% calories from fat), 5 g protein, 28 g carbohydrate, 2 g fiber, 0 mg cholesterol, 382 mg sodium
---
Related Recipes