Serves: 5 | Prep Time: 25 minutes | Cook Time: 5 minutes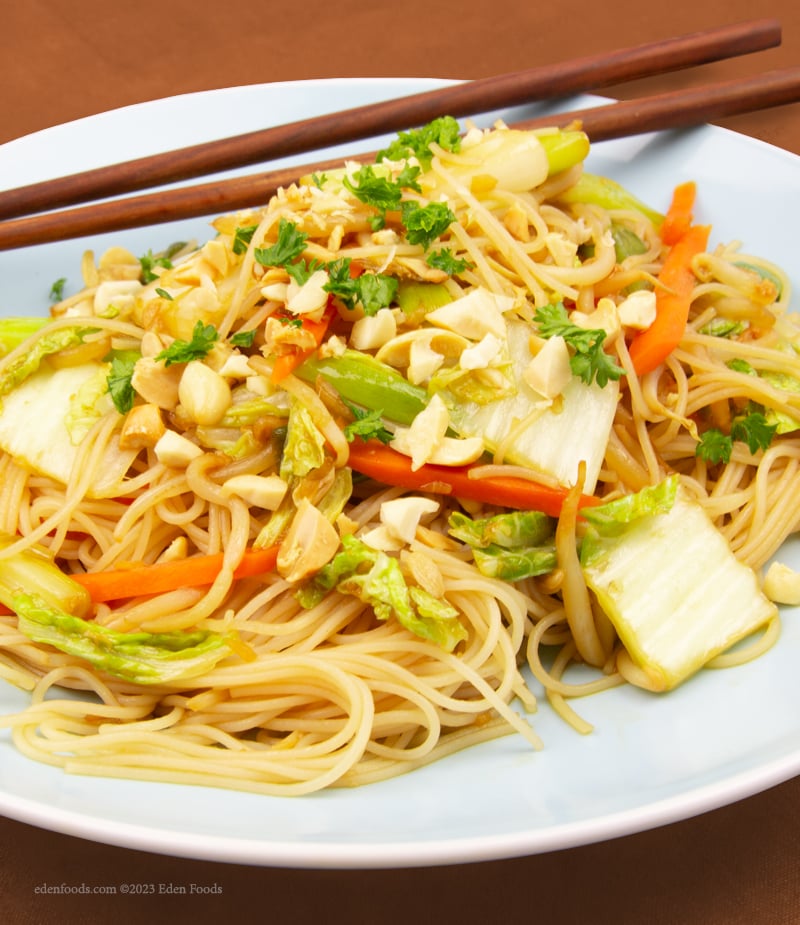 Ingredients
7 ounces E

den

Bifun (rice) Pasta, 2 packages
2 Tbsp E

den

Shoyu Soy Sauce, or wheat free Tamari Soy Sauce

3 Tbsp water

2 Tbsp organic maple syrup

1/4 cup lime juice, freshly squeezed

2 Tbsp water

1 Tbsp fresh ginger root, finely grated

1 1/2 tsp E

den

Hot Pepper Sesame Oil
2 tsp E

den

Black Sesame Oil
or E

den

Toasted Sesame Oil

2 cloves garlic, minced

1 medium carrot, julienned

1 cup scallions, cut into 2 inch lengths

1 cup mung bean sprouts, rinsed and drained

1 cup snow peas, stems removed
chopped Chinese cabbage or small broccoli florets

2 Tbsp unsalted, roasted organic peanuts, chopped

2 Tbsp fresh parsley, finely chopped
Directions
Place the pasta in a large bowl, pour warm water over to cover and soak 20 minutes until tender.

Mix together the shoyu, maple syrup, lime juice, water and ginger. Set aside.

Heat the hot pepper sesame and olive oil in a large skillet or wok. Sauté the garlic for 1 minute. Add the carrots, scallions, mung bean sprouts and snow peas. Sauté 1 to 2 minutes. Add the shoyu and lime juice mixture. Drain the pasta and place in the skillet. Toss until the pasta is hot and softens, about 2 minutes or so. Toss in the parsley and serve with the peanuts on top for garnish.

For those with peanut allergies, other nuts such as roasted cashews or slivered almonds may be substituted.

NOTE: For a Gluten Free recipe substitute Eden Tamari Soy Sauce or a bit of Eden Sea Salt to taste in place of Eden Shoyu Soy Sauce.
---
Nutritional Information
Per serving - 250 calories, 6 g fat (19% calories from fat), 6 g protein, 45 g carbohydrate, 2 g fiber, 0 mg cholesterol, 375 mg sodium
---
Related Recipes