Serves: 6 | Prep Time: 1 hour 25 minutes | Cook Time: 25 minutes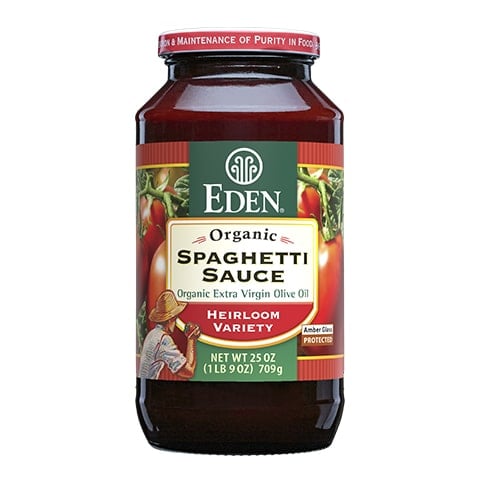 Ingredients
1 1/2 cups organic finely ground corn grits (polenta)

3 cups water, including reserved shiitake soaking water

1 pinch E

den

Sea Salt
1 cup E

den

Sliced Shiitake Mushrooms, soaked 10 minutes in warm water to cover

1 cup button mushrooms, stems removed, sliced

2 cloves garlic, minced

1 medium onion, chopped

25 ounces E

den

Spaghetti Sauce, 1 jar
or E

den

Spaghetti Sauce - No Salt

1/4 tsp dried basil

2 tsp E

den

Safflower Oil, for frying the polenta squares
or E

den

Extra Virgin Olive Oil

2 Tbsp fresh parsley, minced
Directions
Bring the water and salt to a boil in a medium saucepan. Whisk in the polenta. Stir constantly until it begins to thicken. Reduce the flame and simmer for 10 minutes.

Pour the polenta into a shallow glass baking dish and smooth out to about 1/2 inch thick. Refrigerate 1 hour or until the polenta is firm. Slice the polenta into squares or rectangles.

To prepare the sauce, heat the oil in a skillet and sauté the garlic, onions, and mushrooms for 4 to 5 minutes. Add the spaghetti sauce and basil. Cover, reduce heat and simmer for 15 to 20minutes. While the sauce is cooking, pan fry the polenta.

Oil a skillet or griddle with safflower oil and pan fry the slices on each side until golden and crisp. Place on a serving platter.

Ladle the tomato sauce over the polenta when serving. Garnish with parsley.
Nutritional Information
Per serving - 245 calories, 5 g fat (13% calories from fat), 10 g protein, 57 g carbohydrate, 16 g fiber, 0 mg cholesterol, 330 mg sodium
Related Recipes