Serves: 8 | Prep Time: 15 minutes | Cook Time: 20 minutes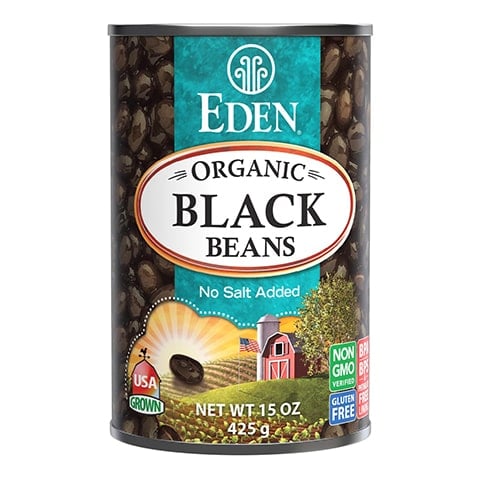 Ingredients
15 ounces E

den

Black Beans, rinsed and drained

1 cup onions, diced

2 cloves garlic, minced

2 Tbsp E

den

Extra Virgin Olive Oil

1 pound button mushrooms, sliced

1/2 cup green bell pepper, diced

1/2 cup red bell pepper, diced

8 organic flour tortillas

1 cup mild chunky salsa
Tofu Sour Cream
Directions
Heat oil in a medium skillet and sauté the garlic and onions for 2 to 3 minutes. Add the mushrooms and peppers. Sauté for 5 minutes. Add the rice and beans. Mix together with the vegetables and sauté 2 to 3 minutes. Set aside.

To make the tofu sour cream, place the tofu, lemon juice, rice vinegar, ume plum vinegar, chives and water in a blender. Puree until smooth and creamy.

Heat up a cast iron skillet over a medium flame. Warm each tortilla for 1 minute or so on each side or until thoroughly heated. You can also heat the tortillas in a covered casserole dish in the oven instead of individually in a skillet.

Spoon the rice, bean and vegetable mixture down the center of each tortilla. Place 1 tablespoon of tofu sour cream on top of the mixture, along with 1 tablespoon of the salsa. Fold the sides of the tortilla over each other to seal. Place on serving plates and top with the remaining salsa, if desired.
---
Nutritional Information
Per serving - 379 calories, 11 g fat (25% calories from fat), 14 g protein, 60 g carbohydrate, 7 g fiber, 0 mg cholesterol, 513 mg sodium
---
Related Recipes