Serves: 6 | Prep Time: 20 minutes | Cook Time: 1 hour 10 minutes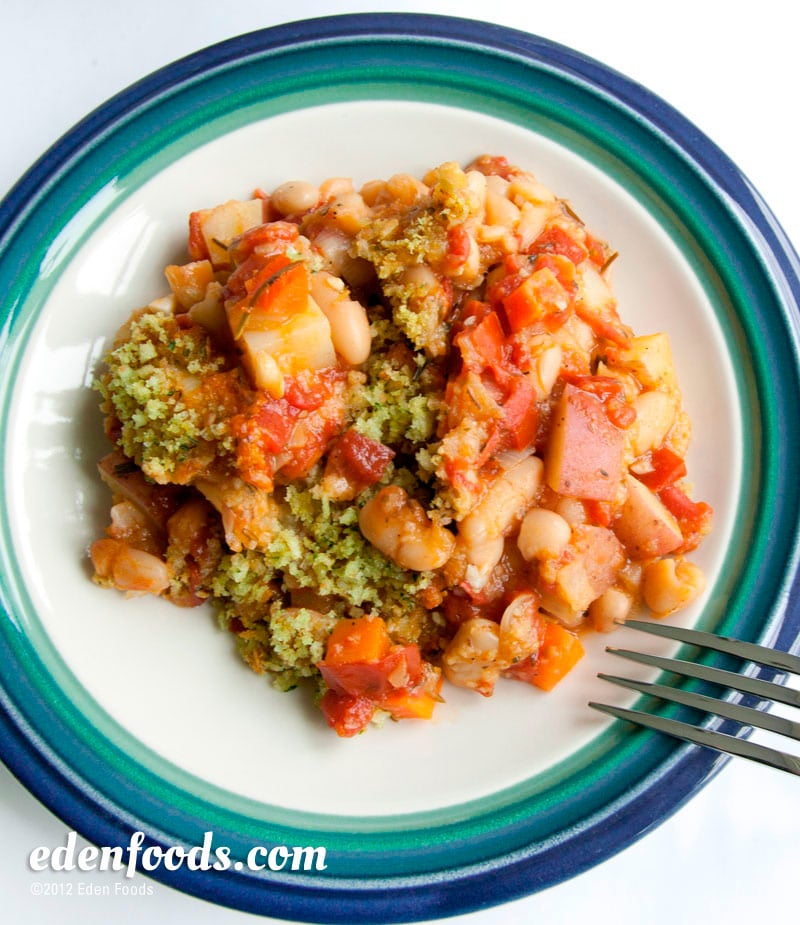 Ingredients
Bread Crumb Topping
1 Tbsp E

den

Extra Virgin Olive Oil

4 slices baguette, sliced 1 1/2" thick

3 Tbsp fresh parsley, coarsely chopped

3 cloves garlic, thickly sliced
Directions
Preheat the oven to 350°. Heat oil in a large skillet. Sauté garlic, onion, carrot and potatoes for 5 minutes. Add salt, pepper and herbs, and sauté 1 minute. Add bay leaf, beans, tomatoes and vegetable broth. Mix and pour into a lightly oiled casserole dish. Bake 30 minutes uncovered.

Place all ingredients for topping in a food processor or blender, and pulse until finely crumbled.

Remove the casserole from the oven and mix in one-half of the bread crumbs. Bake another 20 to 25 minutes or until the potatoes are tender. Sprinkle the remaining bread crumbs on top of the casserole and bake another 15 minutes until slightly brown. Remove and serve.

Note: the type and amount of herbs may vary in many premixed Herbs de Provence, which will influence the flavor of Cassoulet. Other vegetables can also be added such as parsnips and rutabaga.
---
Nutritional Information
Per serving - 278 calories, 8 g fat (25% calories from fat), 11 g protein, 43 g carbohydrate, 9 g fiber, 0 mg cholesterol, 502 mg sodium
---
Related Recipes