Serves: 6 | Prep Time: 10 minutes | Cook Time: 30 minutes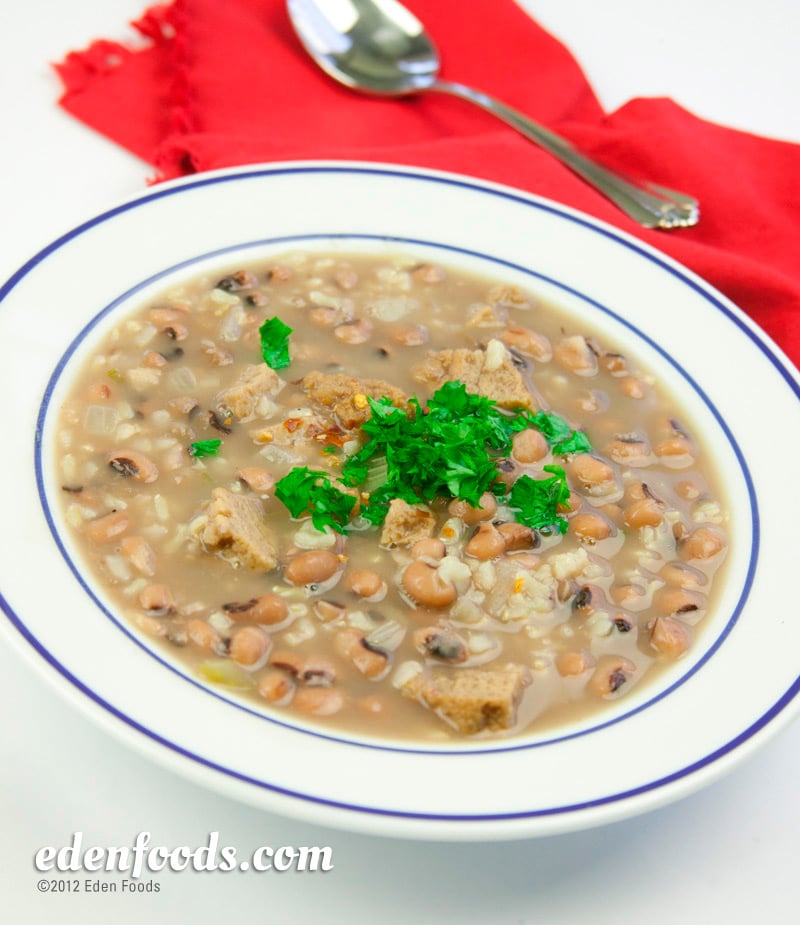 Ingredients
30 ounces E

den

Black Eyed Peas, 2 cans, do not drain
1 cup organic seitan (wheat meat), cubed, optional, see Eden's recipe
or store bought

1 1/2 cups onions, diced

1 clove garlic, minced

1/4 cup celery, diced

1 pinch E

den

Hot Crushed Chili Pepper, or to taste
1/4 tsp E

den

Black Pepper
1/2 tsp E

den

Sea Salt
1 Tbsp E

den

Extra Virgin Olive Oil
1/4 tsp E

den

Hot Pepper Sesame Oil, or to taste
2 cups precooked E

den

Short Grain Brown Rice
or precooked E

den

Pearled Barley

2 cups water

2 Tbsp fresh parsley, minced
Directions
Heat oils in a medium sauce pan, sauté seitan for 2 minutes. Add garlic, onions and celery, sauté for 2 to 3 minutes. Add all other ingredients except the parsley, cover and bring to a boil. Reduce the flame to low and simmer 20 to 25 minutes. Mix in parsley and serve.

Please see Eden's recipe for Homemade Seitan on our web site: www.Edenfoods.com or precooked seitan, called wheat meat, can be found in some natural food markets.

For those with wheat allergies, omit the seitan and substitute deep fried tofu or your choice of quality protein.
---
Nutritional Information
Per serving - 416 calories, 5 g fat (11% calories from fat), 17 g protein, 79 g carbohydrate, 12 g fiber, 0 mg cholesterol, 374 mg sodium
---
Related Recipes