Serves: 6 | Prep Time: 20 minutes | Cook Time: 20 minutes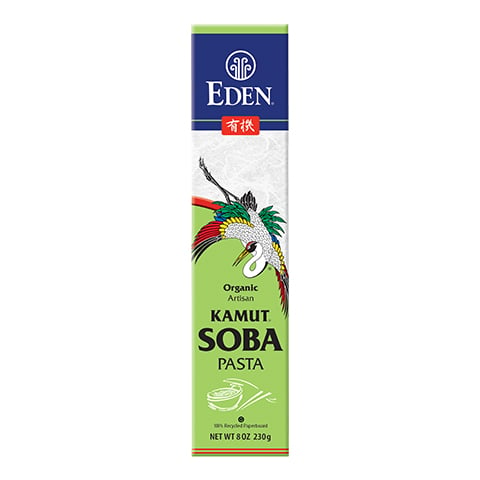 Ingredients
8 ounces E

den

Kamut Soba, or any Soba noodle
2 Tbsp E

den

Extra Virgin Olive Oil

1 medium onion, sliced into half moons

1/2 tsp E

den

Dried Basil

1 medium carrot, julienned

2 cups cauliflower, small florets

4 cups broccoli, small florets, peel stem and slice thin

2 cups Original E

densoy

, Extra Original, or Unsweetened
2 tsp E

den

Kuzu Root Starch, dissolved in 3 T. cold water
3/4 tsp E

den

Sea Salt

1 1/2 cups organic diced tomatoes, drained

1 small red bell pepper, roasted over an open flame, peeled, seeded and diced
or 1 jar roasted red peppers, chopped

1/4 cup fresh Italian parsley, minced for garnish
Directions
Cook soba as package directs, rinse, drain and set aside. Place the whole red pepper over a medium flame, directly on the burner, to roast. Roast, turning with tongs, until the skin of the pepper is completely charred. Place the pepper in a paper bag, seal shut and allow it to steam for 10 minutes, to loosen the skin. Peel or rub the skin from the pepper with your fingers. Gently rinse under cold water to remove any remaining charred residue. Remove the seeds from the pepper, rinse and dice the pepper.

Heat oil in a deep skillet, sauté onion, sea salt and basil for 1 minute. Add the cauliflower, and carrots. Sauté 2 minutes. Add the broccoli, broccoli stems and tomatoes. Sauté 1 minute. Add the Edensoy, cover and simmer over low heat for 3 to 5 minutes, just until the broccoli is slightly crisp and bright green. Add the diluted kuzu, slowly, stirring constantly until the sauce thickens, about 1 minute.

To serve, place soba on a platter and spoon the vegetables and sauce over the soba. Garnish with minced parsley and roasted pepper.
---
Nutritional Information
Per serving - 276 calories, 8 g fat (24% calories from fat), 12 g protein, 43 g carbohydrate, 6 g fiber, 0 mg cholesterol, 359 mg sodium
---
Related Recipes