Serves: 4 | Prep Time: 10 minutes | Cook Time: 20 minutes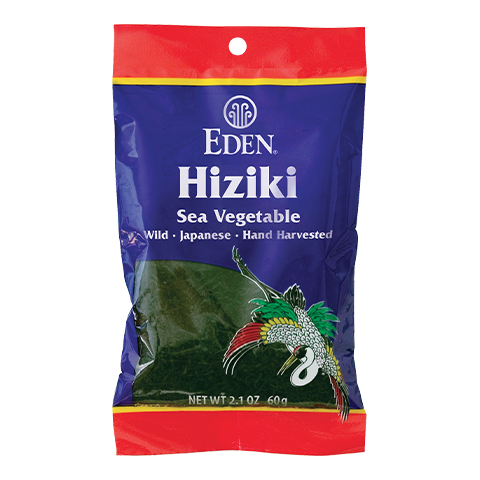 Directions
Set the hiziki in a large bowl or pot and pour an ample amount of boiling water on top. Cover and let sit for 15 minutes. Drain and rinse hiziki. Set aside.

In a large saucepan, heat the oil and sauté the leeks and garlic for 1 minute, stirring frequently. Stir in the mirin and continue cooking over high heat until the mirin evaporates, about 30 seconds. Add the reserved soybean liquid, hiziki, shoyu, ginger, and sweet potatoes. Bring to a boil. Cover and lower heat to medium. Cook until the sweet potatoes are soft, about 15 minutes. Add a bit more water during cooking, if the mixture becomes dry.

Just before serving, stir in the beans, cover and cook until the beans are hot. Delicious over any Eden Soba or Udon Pastas.
Nutritional Information
Per serving - 208 calories, 9 g fat (35% calories from fat), 11 g protein, 25 g carbohydrate, 8 g fiber, 0 mg cholesterol, 462 mg sodium
Related Recipes