Serves: 5 | Prep Time: 20 minutes | Cook Time: 10 minutes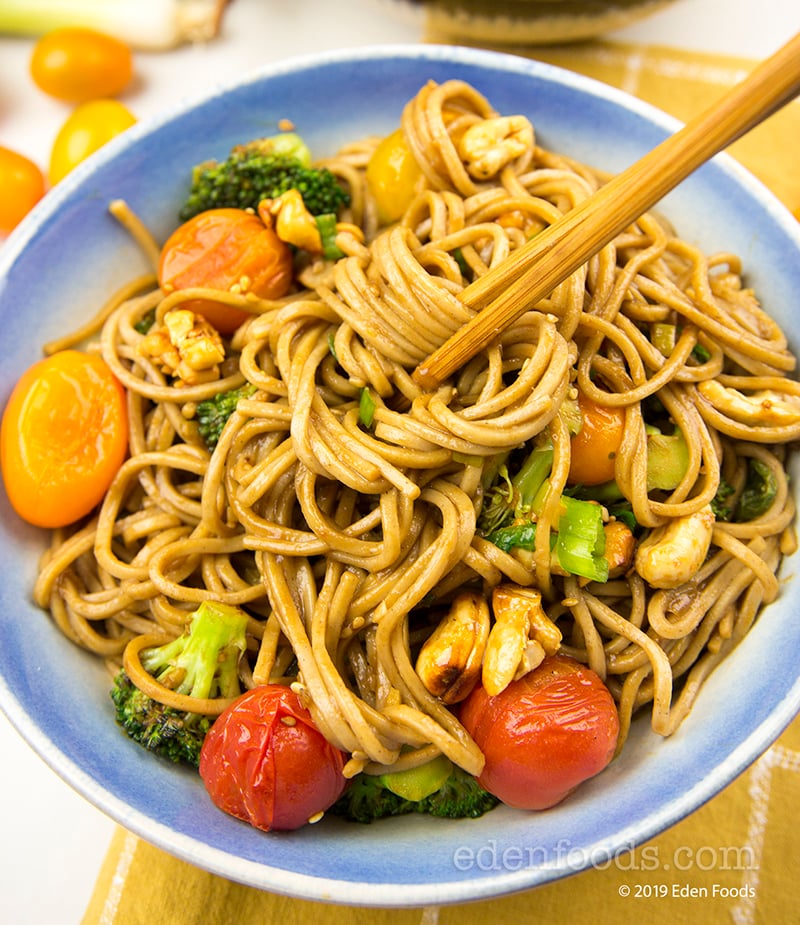 Ingredients
Roasted Tomatoes
Maple Candied Cashews
Hacho Miso Sauce
Soba
2 tsp E

den

Sesame Oil

1 clove garlic, minced

1 inch piece peeled fresh ginger root, minced

1 cup small cut broccoli spears

1 cup Chinese cabbage, chopped

1/2 cup chopped scallions

8 ounces E

den

Wild Yam Soba, or Any Eden Soba

1 Tbsp toasted sesame seeds, for garnish
Directions
Preheat the oven to 450° F. Place the tomatoes in a small mixing bowl and toss with 1 tsp. sesame oil, a pinch of sea salt and a pinch of black pepper. Place the tomatoes on a baking sheet and bake for 5 to 7 minutes. Remove and set aside. Leave the oven on.

Bring the water and maple syrup to a boil. Continue boiling until the water cooks down and becomes amber colored. Mix in the cashews and cook off remaining liquid, stirring to coat the cashews. Place cashews on a baking sheet and bake for 2 to 3 minutes to harden the syrup. Remove, set aside and allow to cool.

Cook the soba per package directions. When firm to the bite (al dente), rinse, drain and set aside. Place the miso, rice vinegar, 1/2 cup water and 2 tsp. sesame oil in a blender. Pulse to evenly blend.

Heat 2 tsp. sesame oil and 1 tsp. toasted sesame oil in a large skillet. Add the garlic, ginger, half the scallions and broccoli. Sauté for 2 minutes. Add the Chinese cabbage and sauté 1 minute.

Add the miso mixture to the vegetables, the remaining half of the scallions and toss. Add the cooked soba to the vegetables and miso to evenly coat with the miso sauce. Cook 2 to 3 minutes until most of the liquid has been absorbed.

Place the noodles and sautéed vegetables on serving plates. Garnish each with the roasted tomatoes, candied cashews, and sesame seeds. Serve.
Nutritional Information
Per serving - 282 calories, 8 g fat (27% calories from fat), 11 g protein, 41 g carbohydrate, 4 g fiber, 0 mg cholesterol, 777 mg sodium
Related Recipes