Serves: 4 | Prep Time: 1 hour 50 minutes | Cook Time: 7 minutes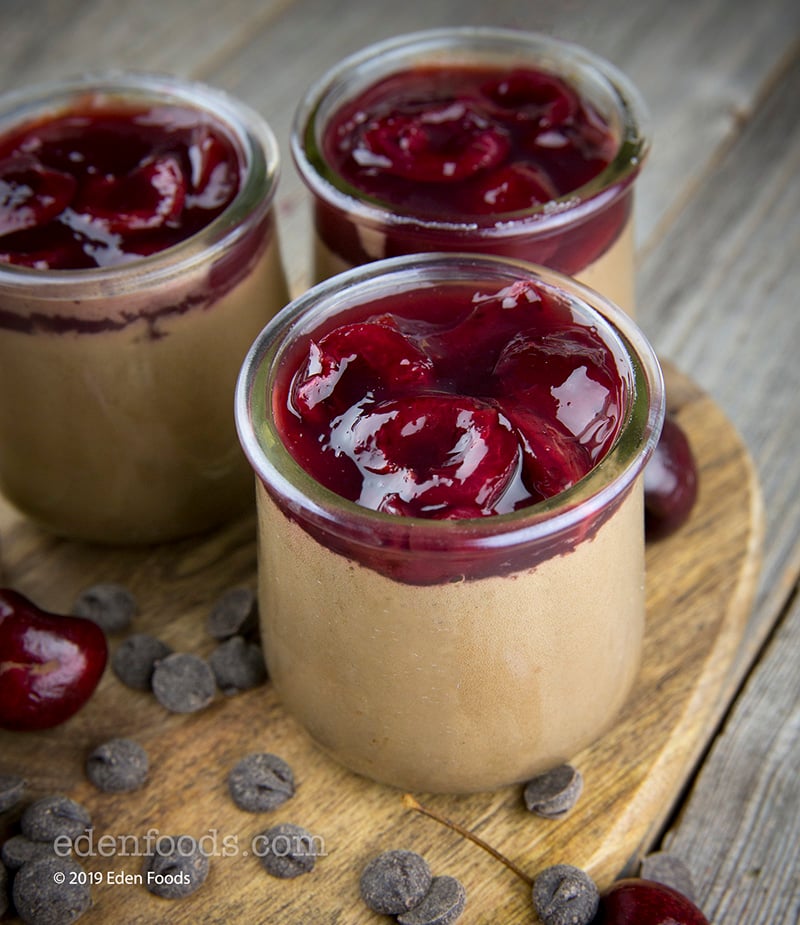 Ingredients
Mousse
Cherry Sauce
Directions
Place the soymilk, cocoa powder, maple syrup, agar and sea salt in a medium saucepan. Bring almost to a boil, stirring constantly. Reduce heat to medium-low and simmer for about 5 to 6 minutes until the agar has dissolved. Pour into a blender and pulse several times to cool and dissolve any remaining agar and chocolate. Place back in the pan and allow to cool.

Place the aquafaba in a mixing bowl and blend with a hand blender for 6 to 7 minutes until the consistency of whipped cream. Pour the cooled soymilk into the aquafaba and gently mix by hand until thoroughly blended. Pour into dessert cups and refrigerate for at least 1 hour to set.

To prepare the cherry sauce, place cherries, cherry juice, maple syrup and pinch of salt in a small saucepan. Bring to a boil. Dissolve the kuzu and add to the cherries, stirring constantly until thick. Remove from the heat. When the mousse is set, pour the cherry sauce over and refrigerate for 30 minutes longer. Remove and serve.
---
Nutritional Information
Per serving - 234 calories, 3 g fat (10% calories from fat), 5 g protein, 50 g carbohydrate, 2 g fiber, 0 mg cholesterol, 85 mg sodium
---
Related Recipes