Serves: 4 | Prep Time: 20 minutes | Cook Time: 1 hour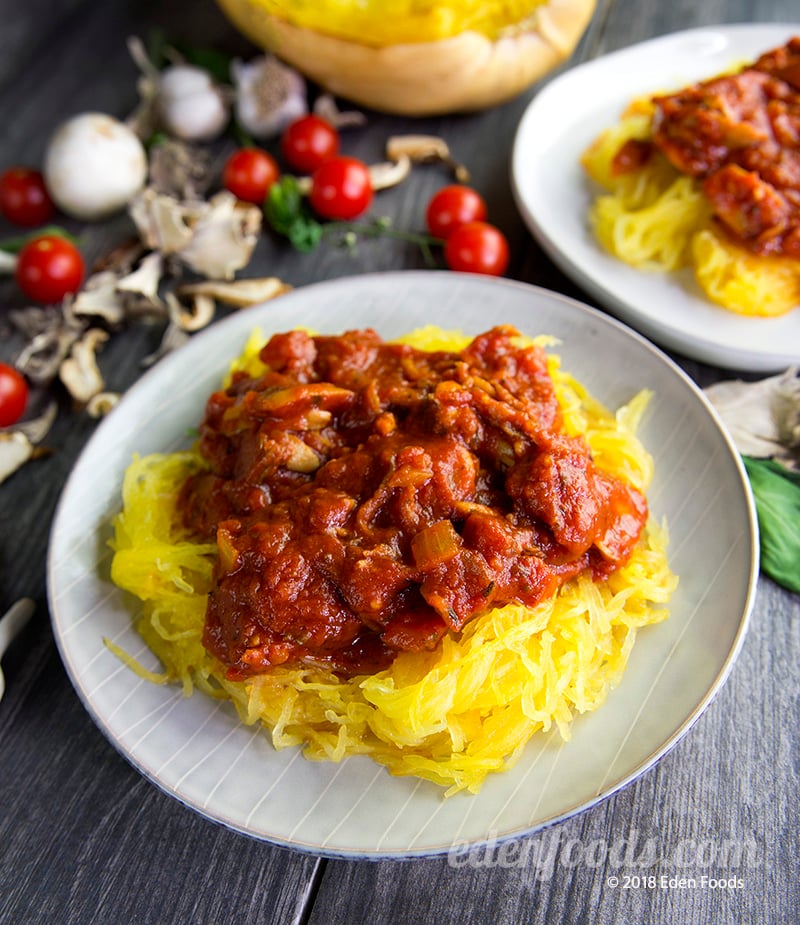 Ingredients
1 whole spaghetti squash, halved and seeds removed
Sauce
Directions
Preheat the oven to 375°. Lightly oil a baking sheet and place the squash on the sheet with the cut side down. Bake for 45 minutes to 1 hour or until tender.

While the squash is baking, prepare the sauce by heating the oil in a heavy medium saucepan and sauteing the onions for 2 to 3 minutes. Add the mushrooms and sauté another 5 minutes. Add the spaghetti sauce and soy sauce, bring to a boil, cover, reduce the heat to low and simmer for about 20 to 25 minutes.

Turn the squash over and bake another 15 minutes to brown slightly. Remove the squash and scoop the inside out into strands, placing them in a serving dish. Ladle the sauce over each serving.

Note: Any fresh mushrooms can be substituted for baby bella. Try adding chopped fresh vegetables such as zucchini, yellow summer squash, eggplant, etc. for a chunky marinara.
---
Nutritional Information
Per serving - 257 calories, 11 g fat (31% calories from fat), 22 g protein, 33 g carbohydrate, 9 g fiber, 0 mg cholesterol, 761 mg sodium
---
Related Recipes