Serves: 6 | Prep Time: 1 hour | Cook Time: 5 minutes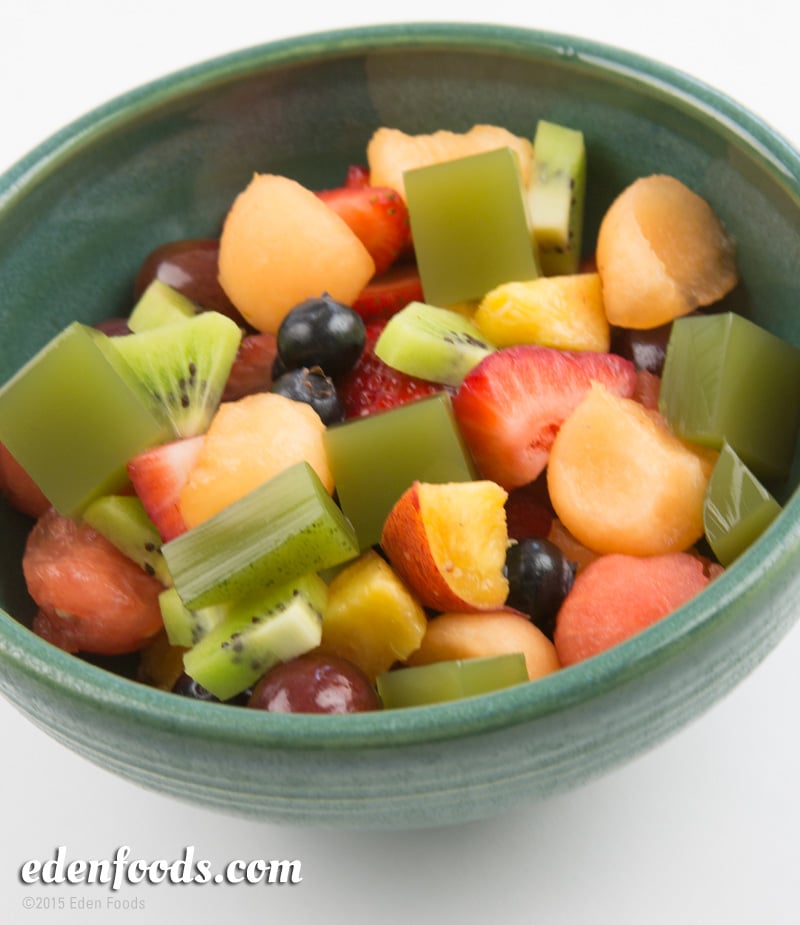 Ingredients
2 cups water

2 Tbsp E

den

Agar Agar Flakes
1 tsp E

den

Matcha Tea

1 cup fresh strawberries, quartered or sliced

1 cup watermelon, balls or cubes

1 cup canteloupe, balls or cubes

1/2 cup nectarine, chopped

1/2 blueberries

1/4 cup red raspberries

1 pinch E

den

Sea Salt
Directions
Place the water and agar in a small saucepan and bring to a boil. Reduce heat to medium-low and simmer, stirring occasionally, for 3 to 5 minutes until the agar has dissolved. Pour the hot liquid into a blender, add the matcha, and pulse several seconds until the matcha has dissolved.

Pour the matcha into a shallow, flat bottom dish and refrigerate until gelled. Mix all of the fruit and sea salt together in a serving bowl.

When the kanten has gelled, remove and sliced into 1 inch cubes. Gently toss kanten cubes in with the fruit salad and serve.
---
Nutritional Information
Per serving - 37 calories, 0 g fat (8% calories from fat), 1 g protein, 9 g carbohydrate, 2 g fiber, 0 mg cholesterol, 25 mg sodium
---
Related Recipes