Serves: 12 | Prep Time: 2 hours 20 minutes | Cook Time: 20 minutes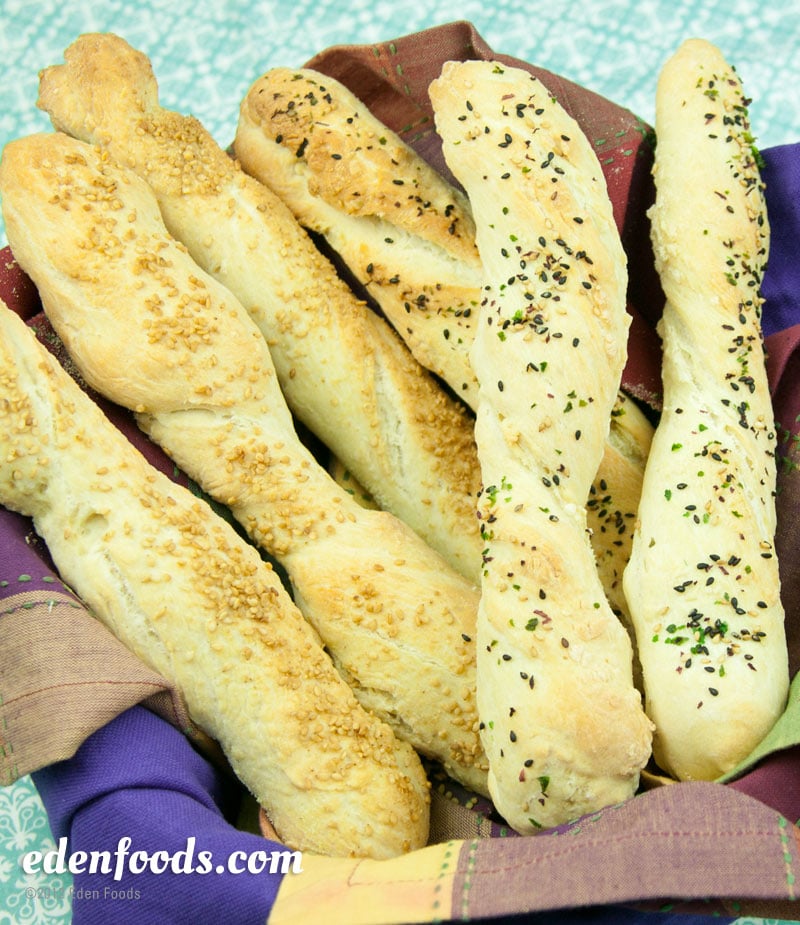 Directions
Place the water, yeast and 1/3 cup olive oil in a measuring cup. Mix and let sit for 4 to 5 minutes until the yeast dissolves and mix again.

Place the flour and salt in a medium mixing bowl and mix to combine. Pour the yeast mixture into a food processor and slowly add the flour. Pulse several minutes until a ball of dough forms. Remove the dough and place in a lightly oil medium mixing bowl. Cover with a damp, warm cloth and place in a warm area to rise until double in size, about 2 hours.

Preheat the oven to 400°. Punch down the dough and form into about 12 equal-size balls of dough. Using your hands roll each ball into long sticks of dough about 10" long x 1" thick and place on a pizza stone or baking sheet. Using a pastry brush, brush oil on the top of each breadstick. Sprinkle gomasio on half of the sticks and Eden Shake on the others. Let rest 5 minutes or so. Bake for about 15 minutes or so until slightly golden. Remove and serve with hot Eden Pizza Pasta Sauce.
---
Nutritional Information
Per serving - 222 calories, 8 g fat (31% calories from fat), 6 g protein, 33 g carbohydrate, 1 g fiber, 0 mg cholesterol, 216 mg sodium
---
Related Recipes