| | |
| --- | --- |
| | 1,325 free recipes at www.edenfoods.com |
---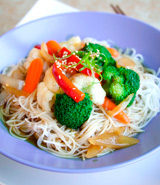 Rice Pasta with Sweet & Sour Vegetables
Serves 4 | Prep Time 15 minutes | Cook Time 15 minutes
Ingredients
7 ounces Eden Bifun (rice) Pasta, 2 pkg.
2 cups water, for blanching vegetables
2 cups broccoli florets
2 cups cauliflower florets
1 cup baby carrots, sliced in half lengthwise
1 Tbsp Eden Toasted Sesame Oil
1/2 tsp Eden Hot Pepper Sesame Oil
1/2 cup onions, sliced into wedges
1/2 stalk celery, sliced on a diagonal
1/2 medium red bell pepper, sliced into 1/4" strips
2 1/2 Tbsp Eden Kuzu Root Starch, dissolved in 1/4 cup cold water
1/4 cup pure sorghum syrup
3 Tbsp Eden Brown Rice Vinegar
or Eden Apple Cider Vinegar
2 Tbsp Eden Shoyu Soy Sauce, or to taste
1/4 cup scallions, thinly sliced
1/4 cup organic sesame seeds, dry pan toasted
Directions
Cook pasta 2 minutes per package directions. Remove, drain, rinse and set aside. Bring 2 cup water to a boil and separately blanch the broccoli, cauliflower and carrots 2 minutes each. Rinse each under cold water and set aside. Reserve cooking water. Heat oil in a skillet and saute onions for 2 to 3 minutes. Add celery and red peppers and saute another 2 minutes. Add the reserve vegetable cooking water and bring to a boil. Add the dissolved kuzu, stirring constantly until thick. Reduce the flame to low and add the syrup, vinegar and shoyu. Place equal servings of pasta in each bowl. Ladle the vegetables and sauce over. Serve garnished with scallions and sesame seeds.
Nutritional Information
Per serving: 426 calories, 9g fat (20% calories from fat), 12g protein, 73g carbohydrate, 6g fiber, 0mg cholesterol, 573mg sodium