| | |
| --- | --- |
| | 1,321 free recipes at www.edenfoods.com |
---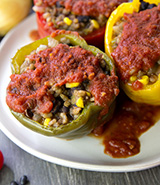 Rice & Bean Stuffed Peppers
Serves 5 | Prep Time 1 hour | Cook Time 20 minutes
Ingredients
30 ounces Eden Mexican Rice & Black Beans, 2 cans
or Eden Spanish Rice & Pinto Beans
1/2 cup Eden Spicy Pinto Beans
5 medium bell peppers, red, orange, yellow or green
1 medium onion, diced
2 tsp Eden Extra Virgin Olive Oil
1 cup organic sweet corn, fresh or frozen
2 cup Eden Crushed Tomatoes with Onion, Garlic & Basil
1/2 cup cold water
1 tsp Eden Sea Salt
Directions
Place the rice and beans in a mixing bowl add spicy pintos and mix. Remove the tops from the peppers and discard the seeds. Blanche the whole peppers and tops in a pot of boiling water for 5 minutes. Remove and drain.

Heat the oil in a medium skillet and sauté the onion for 3 to 4 minutes. Add the sweet corn and sauté 1 to 2 minutes. Place onions and corn in the mixing bowl with the rice and mix thoroughly.

Preheat the oven to 400° F. Stuff each pepper with the rice mixture and place in a casserole dish. Place the tops on the peppers. Combine crushed tomatoes, water, and salt. Pour into the baking dish. Cover the dish and bake for 45 minutes to 1 hour or until the peppers are tender. Remove tops the last 15 minutes to brown. Spoon some of the tomato sauce over the peppers before serving.
Nutritional Information
Per serving: 172 calories, 3g fat (16% calories from fat), 7g protein, 31g carbohydrate, 7g fiber, 0mg cholesterol, 685mg sodium