| | |
| --- | --- |
| | 1,321 free recipes at www.edenfoods.com |
---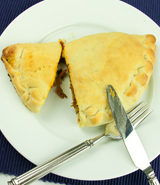 Mushroom Veggie Calzone
Serves 4 | Prep Time 2 hours 15 minutes | Cook Time 20 minutes
Ingredients
Basic Pizza Dough
2 cups organic unbleached white flour
1/2 package dry yeast
1 Tbsp Eden Extra Virgin Olive Oil, plus a little more for oiling the dough
1/4 tsp Eden Sea Salt
2/3 cup warm water, about 85°F.
Filling
2 Tbsp Eden Extra Virgin Olive Oil
2 cloves garlic, minced
1 medium onion, sliced
1/2 cup Eden Maitake Mushrooms, soaked 10 minutes in 1/2 cup hot water
1/2 cup Eden Sliced Shiitake Mushrooms, soaked 10 minutes in 1/2 cup warm water, reserve soaking water
1 small green bell pepper, chopped
1 cup zucchini, chopped
1 cup spinach
1 cup Eden Spaghetti Sauce
or Eden Pizza Pasta Sauce
1/4 cup organic finely ground cornmeal, for bottom of baking dish
Eden Extra Virgin Olive Oil, for oiling baking dish and calzones
Directions
Combine dry yeast, oil and warm water in a small bowl. Stir several seconds until yeast dissolves. Combine flour and sea salt. Pour wet ingredients into dry ingredients and mix to form a ball of dough. Knead for 10 minutes. Lightly oil a large mixing bowl and place the dough in it. Cover with a damp cloth, place in a warm area and let rise for approximately 2 hours until the dough doubles in size.

Heat the oil for the filling in a medium skillet and sauté the onion and garlic for 2 minutes. Squeeze the water out of the maitake and shiitake (soaking water can be saved and used in soups). Coarsely chop the maitake. Add the maitake and shiitake to the skillet and sauté for 5 minutes. Add the green pepper, zucchini and spaghetti sauce. Cover and bring to a boil. Reduce the flame to low and simmer 10 minutes. Mix in the spinach and cook 2 minutes. Remove from the flame.

When the pizza dough is done rising, separate it into four equal size balls. Roll out each ball (on a lightly floured surface) forming a 10 inch circle, about 1/8 inch thick. Ladle the filling over one half of each circle of dough. Moisten the edges of the dough with a little cold water. Fold the other half of the dough over the filling and pinch the edges together with your fingers or a fork to seal the calzone. Lightly oil a baking sheet and sprinkle the cornmeal over the oil. Place the stuffed calzones on the baking sheet and let rest while you preheat the oven.

Preheat the oven to 450°F. Bake the calzones for 10 and then lightly brush a little olive oil on the top of each. Bake again for about 10 minutes or until golden brown. Remove and serve.
Nutritional Information
Per serving: 403 calories, 13g fat (25% calories from fat), 13g protein, 76g carbohydrate, 20g fiber, 0mg cholesterol, 290mg sodium