| | |
| --- | --- |
| | 1,321 free recipes at www.edenfoods.com |
---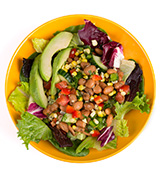 Pinto Salad - Southwestern Style
Serves 4 | Prep Time 15 minutes | Cook Time 3 minutes
Ingredients
15 ounces Eden Pinto Beans, rinsed and drained
or cooked Eden Dry Pinto Beans
1 cup organic sweet corn, fresh or frozen, blanched 2 to 3 min.
1/2 cup red bell pepper, diced
1/2 cup green bell pepper, diced
1/2 cup jicama, diced, optional
or diced cucumber
1 tsp fresh cilantro, minced
or 1 tsp dried cilantro
2 Tbsp fresh parsley, minced
2 Tbsp Eden Extra Virgin Olive Oil
2 Tbsp lime juice, freshly squeezed
2 tsp Eden Ume Plum Vinegar, or to taste
2 Tbsp fresh lemon juice
2 cups mixed salad greens, or radicchio leaves
1 avocado, sliced for garnish
Directions
Place all ingredients except lettuce and avocado in a bowl and toss to mix. Serve on a bed of lettuce and garnish with slices of avocado.
Nutritional Information
Per serving: 259 calories, 14g fat (45% calories from fat), 8g protein, 31g carbohydrate, 9g fiber, 0mg cholesterol, 549mg sodium