| | |
| --- | --- |
| | 1,321 free recipes at www.edenfoods.com |
---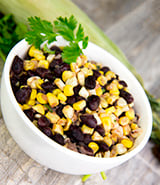 Black Bean & Corn Salsa
Serves 3 | Prep Time 10 minutes | Cook Time 3 minutes
Ingredients
15 ounces Eden Black Beans, drained
1/2 tsp Eden Ume Plum Vinegar, or to taste
1 cup fresh or frozen sweet corn, balanced 2 to 3 min.
1/4 cup finely chopped shallots
2 cloves garlic, minced
1 small jalapeno, seeded, minced (optional if extra spice is desired)
1/2 tsp ground cumin
1/2 tsp ground chili pepper
2 Tbsp fresh lime juice, or to taste
2 tsp chopped fresh cilantro
Directions
Place all ingredients in a mixing bowl and thoroughly mix. Use as a dip for chips or as an ingredient in Eden Five Layer Bean Dip. See Eden recipe.
Nutritional Information
Per serving: 187 calories, 2g fat (8% calories from fat), 10g protein, 35g carbohydrate, 8g fiber, 0mg cholesterol, 193mg sodium