| | |
| --- | --- |
| | 1,315 free recipes at www.edenfoods.com |
---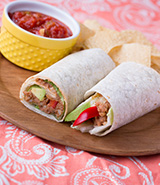 Spicy Rice & Pinto Bean Burritos
Serves 5 | Prep Time 10 minutes | Cook Time 20 minutes
Ingredients
16 ounces Eden Spicy Refried Pinto Beans
15 ounces Eden Spanish Rice & Pinto Beans
2 Tbsp Eden Extra Virgin Olive Oil
1 cup diced onion
5 organic flour tortilla
5 romaine lettuce leaves
1 avocado, peeled, seeded, sliced in strips
1 medium red bell pepper, sliced in strips
1 cup organic salsa
Directions
Preheat the oven to 300°. Place the shells in a tortilla warmer or a covered casserole dish. Heat until warm.

Heat the oil in a large skillet and sauté the onions for 1 to 2 minutes. Add the rice and beans and the refried pinto beans. Mix thoroughly. Cover and simmer on low until hot, stirring frequently to prevent burning.

When the shells and rice and beans are hot, place a lettuce leaf on each shell. Place an equal amount of rice and beans on each. Place red pepper strips, sliced avocado, and salsa on each. Roll up and place on individual serving plates.
Nutritional Information
Per serving: 436 calories, 17g fat (33% calories from fat), 14g protein, 62g carbohydrate, 15g fiber, 0mg cholesterol, 760mg sodium