| | |
| --- | --- |
| | 1,307 free recipes at www.edenfoods.com |
---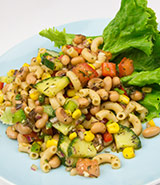 Black Eyed Pea & Kamut Elbow Pasta Salad
Serves 10 | Prep Time 20 minutes | Cook Time 10 minutes
Ingredients
12 ounces Eden Kamut Elbows, 1 pkg.
45 ounces Eden Black Eyed Peas, (3 cans) rinsed, drained
1 1/2 cups organic tomatoes, diced
1 cup organic sweet corn, fresh or frozen, blanched 2 minutes
1 cup green bell pepper, diced
1 cup red bell pepper, diced
1/2 cup red onion, minced
3/4 cup green onion, finely chopped
1 medium cucumber, score skin with a fork, quartered, sliced
Dressing
1/3 cup Eden Apple Cider Vinegar
2 1/2 Tbsp Eden Barley Malt Syrup
2 1/2 Tbsp organic maple syrup
1/3 cup Eden Extra Virgin Olive Oil
4 cloves garlic, minced
1 Tbsp dried oregano
2 Tbsp dried basil
1/4 cup Eden Shoyu Soy Sauce, or to taste
1/8 tsp cayenne pepper, optional, see Note
Directions
Cook pasta per package directions, rinse and drain. Place the pasta, tomatoes, corn, green and red peppers, green onion, red onion and cucumber in a medium-mixing bowl. To prepare the dressing, place all ingredients in a blender and pulse several seconds, or place in a sealed glass jar and shake vigorously to mix. Pour the dressing over the salad and toss to mix. For the best flavor, chill 1 hour before serving or it can be serve at room temperature.

Note: For a spicy flavor, add a very small pinch of cayenne pepper to each individual serving and toss to mix.
Nutritional Information
Per serving: 366 calories, 10g fat (24% calories from fat), 15g protein, 56g carbohydrate, 10g fiber, 0mg cholesterol, 431mg sodium