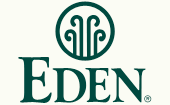 ©2017 Eden Foods, Inc.
www.edenfoods.com
What if, Instead of going back to websites to see what's new, you could get links to all that new stuff sent to you? With RSS you can. RSS (really simple syndication) is a vehicle that delivers fresh information from websites you want to hear from, without adding to your email inbox.
All you need is an RSS reader (most are free). It takes just a minute to subscribe to one on the web, or download one to your computer. Then wherever you see an RSS symbol, you can click and have "What's New" sent straight to you. Click here for the most popular RSS readers.
Eden offers the following RSS feeds to help keep you up to date with our newest Articles, Recipes, Products, and Newsletters. You can subscribe to all by clicking on the top link, or pick and choose from the links below that.


Thanks for your interest in up-to-date news about good food!