15 May 2007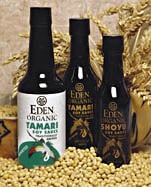 Clinton, Michigan - Eden Organic Imported Tamari was named the best out of seven brands sampled by an expert panel of tasters in the San Francisco Bay area.
The San Francisco Chronicle organized the tamari taste test for its "Tasters Choice" column. Panelists were Linda Anusasananan, food writer and consultant, San Mateo; John Carroll, cookbook author, San Francisco; Amanda Gold, San Francisco Chronicle Food staff; Shelley Handler, consultant, San Francisco; and Roland Passot, chef-owner, La Folie and five Left Banks.
"In judging tamari, the panel looked for a smooth, rich flavor balanced by the right amount of salt," the Chronicle reported. "Common problems were harsh or sweet notes, or too much salt. The tamaris were served plain and with white rice."
"The top tamari, in the panel's opinion, was Eden's imported version with the green label, which is organic and made in Japan in the traditional long-fermented way" This tamari was dark and thick, almost syrupy. Its flavor was 'rounded,' with a 'nice complexity of flavor' that balanced salt and caramel." ("Top Tamari Balances Sweet and Salty," San Francisco Chronicle, 28 March 2007.)
Eden Organic Imported Tamari earned 69 out of a possible 100 points. Other brands sampled earned from 14 to 60 points. Eden's domestically produced, U.S. Naturally Brewed Tamari (plum label) placed third in the taste test with 55 points. Panelists' comments included "Balanced taste," "salty, but not overly so," and "good flavor."
Other Eden Soy Sauces have also earned the top rating in high profile taste tests. Eden Traditionally Brewed Shoyu was the highest rated and only 'Highly Recommended' brand in two comparisons of 12 soy sauces by Cook's Illustrated Magazine, as reported in its January/February 2000 issue. "Tasters decisively ranked this distinct soy sauce number one in both taste tests," said the authors. "Its flavor was toasty, caramely, and complex, not wimpy. Rich, clean, and balanced with 'vivid' flavor. The salt flavor was tangible but not overpowering." Also recommended was Eden Organic Imported Tamari, described as "Very savory, rounded and smooth. A solid finish in both taste tests."
Eden Traditionally Brewed Shoyu soy sauce is made in Japan by master artisans skilled in the ancient method of koji fermentation, a process using koji spore inoculated whole soybeans and wheat, careful tending, and aging in cedar casks through two full cycles of the seasons. Eden Traditionally Brewed Tamari is crafted in the same way but without wheat. Domestic Eden Tamari is made in Virginia. All of them are made out of expertly selected U.S.A. family farm organically grown, non-gmo soybeans.
While Tamari imparts its own flavor, Shoyu harmonizes, blends, and enhances. Shoyu soy sauce is the best table condiment. Tamari's popularity began among those sensitive to wheat. Shoyu is an excellent choice for sautéing, stir-frying, and 'rounding out' the flavor of a variety of foods, while tamari holds up best in longer cooked dishes.
Eden Shoyu and Tamari are a joy to season and cook with. Their rich flavor and bouquet develops only after months of aging. When you become accustomed to using high quality natural shoyu and tamari, you can count on your senses to discriminate from then on. Experience the Eden Difference.
Eden Shoyu and Tamari come in five selections, including Reduced Sodium Shoyu, in glass bottles and in bulk. All are

kosher pareve.
Cook's Illustrated is an independent publication that is not affiliated with Eden Foods and does not endorse products.
---
Eden means no irradiation, no preservatives, no chemical additives, no food colorings, no refined sugars, no genetically engineered ingredients; just the safest, most nutritious, certified organically grown food that can be found. More than 260 Eden foods are available at discerning retailers in the U.S.A. and Canada. For more information, or if you would like our email for press releases, please call 800 248-0320, email us at cs@edenfoods.com or visit www.edenfoods.com. Retailers and Co-ops please go to access.edenfoods.com.