5 October 2000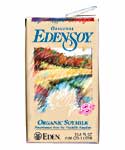 Clinton, Michigan - Edensoy, Edensoy EXTRA, and Edenblend - the best tasting and most nutritious organic liquid food - have a reengineered reclosable seal, spout, and cap. The new opening/closure is on all one liter (33.8 fl oz) packages made on 25 August 2000 and later.
Called 'Recap3,' TetraPak's third version, this seal, cap, and pour spout was acquired to improve our package's most commented about feature, how it opens, closes, and pours. Put simply, it is a significant improvement, working easier and functioning better, delivering drip-free pours and a tight reseal for shaking without spills. Since Edensoy was introduced in 1983, we have taken every step to ensure the finest quality and convenience. Every aspect of Edensoy, including packaging, is constantly studied.
First introduced into the European market two years ago, Recap3 has been enthusiastically and warmly received. Edensoy, Edensoy EXTRA, and Edenblend are the first, and the only products in the United States or Canada to feature Recap3. Eden has used TetraPak's state-of-the-art package and packaging equipment for all soymilk and liquid food since 1986.
Edensoy, Edensoy EXTRA, and Edenblend have consistently grown in popularity because they are smooth and delicious, nutritious and satisfying. Each is made from whole soybean and grain, organically grown in living soil on family farms by those committed to clean food that's the best tasting and most nutritious. Eden selected ingredients, reverse osmosis purified water, 240 continuous quality control checks, and years of research into how to best cook soy protein, create the best flavor, nutrition, and satisfaction. Edensoy's protein and nourishment is from organic whole beans, not hexane extracted isolate found in most brands, and it is thoroughly and intelligently cooked.
A meticulous audit trail and tests at the farm, storage elevator, and maker guarantee the purity of Edensoy, Edensoy EXTRA, and Edenblend from seed, to soil, to you. All are kosher and parve

.
---
Eden means no irradiation, no preservatives, no chemical additives, no food colorings, no refined sugars, no genetically engineered ingredients; just the safest, most nutritious, certified organically grown food that can be found. More than 260 Eden foods are available at discerning retailers in the U.S.A. and Canada. For more information, or if you would like our email for press releases, please call 800 248-0320, email us at cs@edenfoods.com or visit www.edenfoods.com. Retailers and Co-ops please go to access.edenfoods.com.