5 September 2000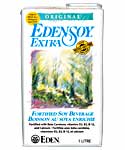 Clinton, Michigan - Edensoy EXTRA, the world's best tasting and most nutritious organic soymilk, is now available in Canada, with a bilingual English/French label.
Edensoy EXTRA is made from whole soybeans and grain, organically grown in living soil, on family farms by those committed to a clean environment and the best tasting, most nutritious, safe food. We add the quality fortification of Beta Carotene, Calcium, Vitamin D2, Vitamin B2, Vitamin B-12, and Zinc.
Introduced in 1983, Edensoy Original was the first soymilk to be properly cooked for people. The finest ingredients, reverse osmosis purified water, 240 continuous quality control checks, and years of research into how to best cook soy protein, guarantee the best flavor, nutrition, and performance.
Edensoy EXTRA is smooth and delicious, nutritious and creamy. Malted grain provides a hint of sweetness. It offers a perfect balance of quality soy protein, healthy fat, and high energy carbohydrates with more soy protein benefit than any other brand of soymilk. Edensoy's protein is best quality because it comes from the whole bean rather than soy isolate found in other brands, and it's properly cooked.
Edensoy EXTRA is cholesterol free, low in saturated fat, and a good source of folic acid. It is rich in minerals, isoflavones, B vitamins, and other essential nutrients, plus 10 grams of soy protein per serving - shown to lower LDL cholesterol and reduce the risk of heart disease. Whole soy food may also help to protect against certain kinds of cancer, ease menopausal symptoms, prevent osteoporosis, and more. The added nutrients in Edensoy EXTRA provide added protection and contribute to healthy cell growth and performance.
Edensoy EXTRA is now available in Canada in one liter (33.8 ounce) boxes that do not need refrigeration until opening. Original and Vanilla flavors.
The Eden brand is your best assurance of freedom from genetically engineered organisms (GEOs) or their derivatives. A meticulous audit trail and tests at the farm, storage elevator, and maker guarantee the purity of Edensoy EXTRA from seed, through the soil to you. All are kosher and parve

.
---
Eden means no irradiation, no preservatives, no chemical additives, no food colorings, no refined sugars, no genetically engineered ingredients; just the safest, most nutritious, certified organically grown food that can be found. More than 260 Eden foods are available at discerning retailers in the U.S.A. and Canada. For more information, or if you would like our email for press releases, please call 800 248-0320, email us at cs@edenfoods.com or visit www.edenfoods.com. Retailers and Co-ops please go to access.edenfoods.com.