5 September 2000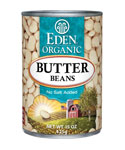 Eden Baby Lima Beans are organically grown in nutrient rich vital soil on family farms committed to a clean environment and the most nutritious and delicious food. Expertly prepared at Eden's own certified organic cannery, they are soaked overnight and cooked with a bit of kombu sea vegetable, which naturally enhances their flavor. Eden Baby Lima Beans have no salt added.
Also known as butter beans or pole beans, lima beans are native to Peru and were enjoyed by the Inca. They are dime-sized, flat, and kidney shaped. Eden Baby Lima Beans are especially tender, and creamer than most lima beans. Their smooth, buttery texture, complex flavor, and fun shape enhances soups, salads, and casseroles. They make a satisfying, energy boosting, quick and easy food.
Eden Organic Beans have twice received the highest ranking in comparisons of brands by Nutrition Action Healthletter. Every flavor of Eden beans was recognized as having superior nutrition including high fiber and low sodium.
Eden Baby Lima Beans are the most appealing and nourishing because they're a carefully selected variety, grown in vital soil that is free of pesticides, herbicides and chemical fertilizers. Most canned beans are loaded with refined sugar, refined salt, and may contain dyes, meat products, and chemical preservatives.
Eden Lima Beans are high in vegetable quality protein, a good source of fiber, iron, magnesium, and zinc. They are an excellent source of thiamine (vitamin B1), essential for metabolism and healthy function of the brain, nervous system, heart, and more. Essential to life, thiamine helps to keep our energy up and our stress levels down. Beans are also a good source of folic acid, B-6, and other important B vitamins shown to lower the risk of heart disease and promote healthy cells.
A meticulous audit trail guarantees the purity of Eden brand food from the seed, through the soil to you. Eden Baby Lima Beans are certified organic and kosher parve

.
---
Eden means no irradiation, no preservatives, no chemical additives, no food colorings, no refined sugars, no genetically engineered ingredients; just the safest, most nutritious, certified organically grown food that can be found. More than 260 Eden foods are available at discerning retailers in the U.S.A. and Canada. For more information, or if you would like our email for press releases, please call 800 248-0320, email us at cs@edenfoods.com or visit www.edenfoods.com. Retailers and Co-ops please go to access.edenfoods.com.