11 May 2006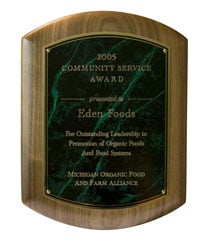 Clinton, Michigan - Eden Foods has been recognized with the Michigan Organic Food and Farm Alliance's (MOFFA) 2005 Community Service Award.
This Community Service Award "recognizes extraordinary efforts to educate and inform the general public about the importance of local, organic food systems in Michigan."
In a letter to Eden's President, Michael Potter, MOFFA Board Chair Jim Bingen wrote, "Eden Foods has been a generous contributor to various community and farmer events throughout Michigan ... Eden Foods has demonstrated its support for Michigan's organic farmers by buying 'local', and we are glad to be working with your staff as part of our organic transition project to recruit more farmers interested in providing fruits or other foods for your products."
Mr. Bingen also cited Mr. Potter's ongoing service on the Michigan Organic Advisory Committee, which he has chaired for four years, and "The efforts made by Eden Foods to educate the public about organic foods and real food quality."
Mr. Potter received the Community Service Award for Eden at MOFFA's Annual Meeting on 29 April 2006, at the Michigan State University Student Organic Farm.
"It is gratifying for Eden to be recognized with this award, especially because it comes from people who are genuinely committed to organic food and farming," said Mr. Potter. "Also, it was nice to see some of the people Eden has worked with for a long time, and to meet some of the MSU students who are working and studying on the Student Organic Farm. It was good energy."
From the organization's Annual Report, "MOFFA is the only non-profit, volunteer organization in Michigan that seeks to promote the development of food systems that rely on organic methods of food production and that revitalize and sustain local communities."
MOFFA was organized in 1992 as a non-profit organization. Its members, according to its website, "work to create more public awareness about the nature of industrialized food supply and its environmental and social hazards. We teach 'eaters' to value and to choose organically grown food produced in their own locales. MOFFA is a force for generating public awareness about the need for more decentralized food systems that allow for greater participation and choice on the part of all citizens."
MOFFA engages in educational and outreach programs throughout Michigan, including collaborating with regional and local groups to host a series of community organic harvest festivals each fall; sponsoring educational programs on methods of organic farming, community based agriculture, the importance of chemical-free food and local food systems in both rural and urban environments; working with other organizations and individuals throughout Michigan to promote organic agriculture and local food systems; and advocating for local organic agriculture through participation in policy groups, committees, workshops and forums. More information can be found at www.moffa.org.
The Community Service Award came with a gift that was especially touching to Mr. Potter and the staff at Eden. It is a bookmark with MOFFA's logo on one side, and on the other side a quote from the MOFFA Board of Directors that reads, "Thanks for all you do to make the world a better place."
---
Eden means no irradiation, no preservatives, no chemical additives, no food colorings, no refined sugars, no genetically engineered ingredients; just the safest, most nutritious, certified organically grown food that can be found. More than 260 Eden foods are available at discerning retailers in the U.S.A. and Canada. For more information, or if you would like our email for press releases, please call 800 248-0320, email us at cs@edenfoods.com or visit www.edenfoods.com. Retailers and Co-ops please go to access.edenfoods.com.